可以使用WPForms将用户添加到 Connect Constant 邮件列表中。使用 Connect Constant 集成,则可以允许用户通过提交表单来加入订户列表。
以下内容展示如何通过newsletter注册表单将网站的访问者添加到Constant Contact邮件列表中。
1. Allow WPForms to access Constant Contact
首先需要在你的WordPress websiteInstall and activate onWPForms. If you don't have a Constant Contact account, you canherecreate.
After the setting is complete, go to the website management background, and then navigate to WPForms »Settings Start configuring Constant Contact.
On the Settings page, click Integrations Tab. In this tab, click Constant Contact Turn it on. Here, you need to click Add New Account Button.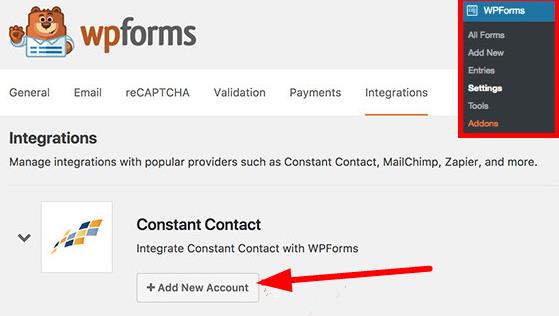 then click Click here to register with Constant Contact Register WPForm with Constant Contact.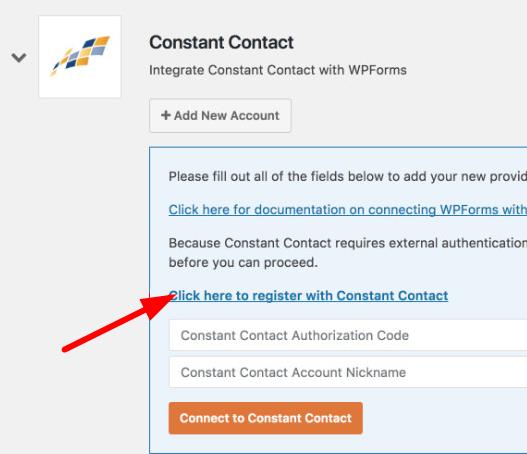 After clicking the link, the Contact account login page appears. After logging in, click  Allow Button to allow access to WPForms.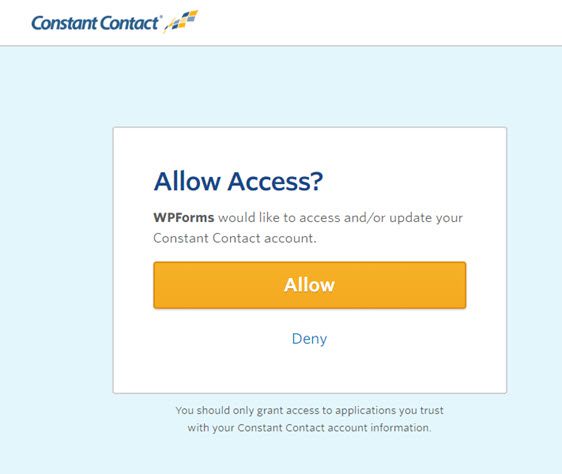 Next, you will see  Constant Contact Authorization code, and then copy the code to the WPForms settings page Constant Contact Authorization Code One column.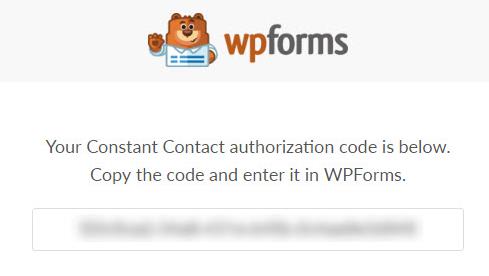 In Constant Contact Account Nickname In the column, you can use any name, because this is only for internal (self) future reference.
After filling in the two fields, clickConnect to Constant Contact Button to continue.

WPFormsAfter connecting the website to your Constant Contact account, a green box will appear showingConnected.

2. Connect Constant Contact to your form
要创建Constant Contact的newsletter 表单,需要添加新表单或编辑现有表单。
In the following example, useNewsletter Signup Form The template creates a new form.

Then, connect the form to the Constant Contact account. In the form builder, go toMarketing »Constant Contact And selectAdd New Connection .

Enter the nickname of the connection to be created on the page that appears. If you plan to connect this form to multiple mailing lists in the future, you can use nickname to distinguish it from each other. However, your users can't see it, only you can see it.
After the connection is created, you can select any Constant Contact account.
After selecting the desired account, you can also select a specific mailing list in that account.
Note: All Constant Contact mailing lists must be created in a Constant Contact account. For more details, please refer toConstant Contact official list introductory tutorial.
In List Fields Under the section, you can see the subscriber information, which can be added to the Constant Contact mailing list, the only need to fill in isemail address.
Link to other fields
To send other input fields to Constant Contact, you need to map the form fields to the relevant fields available in Constant Contact.
This is the fillable field provided by Constant Contact for newsletter users:
Email
Full Name
First Name
Last Name
Phone
Website
Address
Job Title
Company
After configuring the form settings, click save to continue.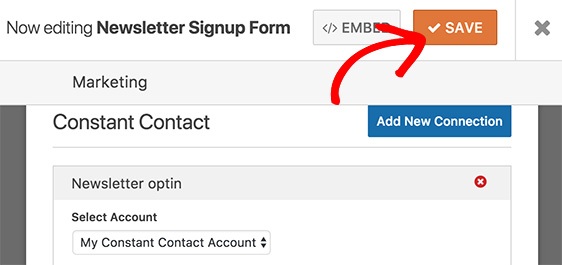 好了,到此为止,已成功通过 Constant Contact 创建了newsletter 注册表单。