Website Project:American host Bluehost
price: Starting from US$2.95/month
Creation time:year 1996
Host performance: Excellent-one of the top American hosts
Suitable for: Large and very large websites, professionals and Internet companies
Whether there are upsell and hidden fees:Yes
Overall score:88 points (over 95 points for performance as a host alone)
As a paying user of bluehost in the United States for 4-5 years, he wrote this article based on his own experience and the experience of many foreign users. In this article, I will introduce some negative issues about bluehost that are never mentioned by domestic websites.Hope to have an objective reference value for friends who are going to use bluehost.
Introduction to BlueHost
Bluehost isEndurance International GroupIts web hosting company, with more than 700 employees, has a server room area of 4,600 square meters in Utah, USA. It is currently one of the 20 most famous web hosting companies in the world, and its sister companiesHostMonster,FastDomain,iPageThere are about 2 million domain names in common host.
Bluehost provides domain name services and virtual hosting services (shared hosting/shared hosting, WordPress hosting, VPS hosting and other forms of hosting services. As shared hosting (of course, there are other hosting services), it is the most outstanding mainstream US host one.
Bluehost hosting features and advantages
Anyone who wants to buy a bluehost host from the United States must have already understood the various features and advantages of the host from the Internet. This article will not focus on the introduction, just a brief explanation for the unfamiliar friends
1. Uptime can reach 99.98%
According to the statistics of multiple websites and users (including my personal experience, there have been 3 websites on bluehost), I have never encountered a downtime situation. Of course, my personal experience is not representative. You can look at other people's offers Relevant statistics for 2017:

2. Web pages load fast
In the ranking of web page loading speed, Bluehost is among the top 10 virtual hosts.
Since the beginning of 2017, Bluehost has greatly improved the speed of web pages, and the speed of web page loading can effectively improve the website'sgoogle search ranking, The slow web page speed will affect the user experience, which means losing money.
We have all experienced this: But if you open a website or webpage, if it doesn't display for a long time or is not displayed completely, we will leave, so this is a very important indicator. According to statistics, many years ago, Google paid the price of losing 20% traffic just because there was a half-second delay.
3. Cheap price (as low as $2.95 per month)
As the current mainstream Internet host, the price is as low as $2.95 per month, which can be said to be incredibly low.
4. Safety and reliability
As a mainstream host, security is naturally the most important, so you don't have to worry about website security.
Ensure account login security
Ensure website security-backup, spam
5. Integrate various apps and e-commerce tools together
Bluehost dashboard integrates various service options, such as google app and the aforementioned CloudFlare, etc.
The Google app is integrated into your bluehost account, then the convenience and advantages of Google can be accessed from your bluehost account (no Google will not succeed)
On the other hand, CloudFlare as a well-knownCDN(Content delivery network/Content distribution network) service provider, this is also in the CPanel of bluehost.
6. WordPress official recommended host
Currently Bluehost is alsoWordPress officialThe host is recommended, which also shows the reliability of its performance and other advantages.
Currently Bluehost has been officially recommended by WordPress web hosting provider. If it is a wordpress website built on Bluehost, the back-end management interface is very simple and convenient to manage multiple WP sites.
 7. Easy to use
Bluehost control panel layout is simple, clear and easy to use. It manages all your own sites and email accounts. Click the corresponding icon to enter the user interface, and you can customize the personalized user interface according to your needs. Most of them are one-click install (one-click install). Install).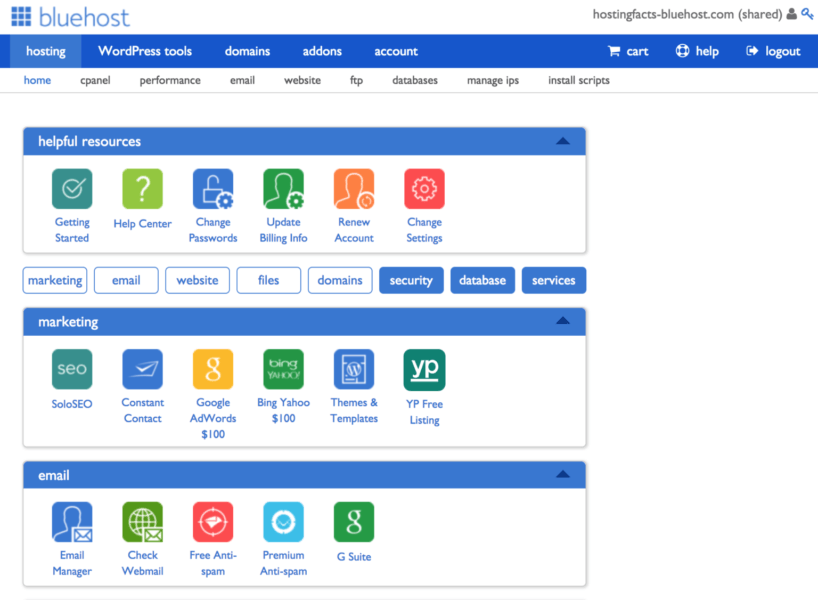 8. First time registered users-domain name is free
For users who register for the first time, Bluehost offers a free domain name discount for the first year, which can save at least a dozen dollars a year.
9. 30-day free trial and money-back guarantee
Remember: If you are not satisfied, you must cancel your account within 30 days to get a refund. In addition, bluehost's add-on products are non-refundable, such as domain name fees.
What is the real price of Bluehost-is it really cheap?
I have two answers to this.
The first is cheap, indeed cheap. Such an excellent host starts at only US$3.95 per month (even US$2.95/month in some areas), and the domain name is free for the first year.
The second, "cheap"?
As a paying user of bluehost for many years, I have a very deep experience in this, and Bluehost does not clearly state the price of its service.
Regarding the price, I would like to say a few more points:
The first Bluehost real web hosting price
(1) Domain name price
The first year is free, and the second year starts to be paid. The price is higher than the average price of most domain registrars, at least 14-16 US dollars per year. The price of better (such as easy to remember) domain names is higher, not like the homepage says. $11.99 (my domain name renewal has always been at this price-a very common domain name), the following picture is the price of bluehost on its homepage:
However, many people will think, it doesn't matter, one year is just this little money, well, let's look down, and other domain name fees that ordinary people can't figure out: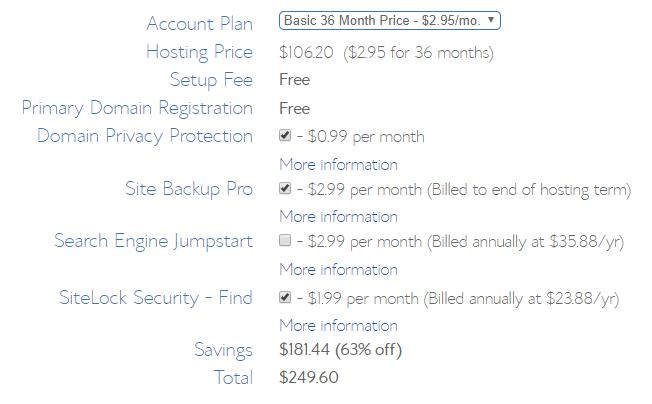 The fee checked above is paid on a monthly basis (this is checked by bluehost by default, and you can also remove it). This is not a yearly fee. (If you don't understand what it means, search on Google. The space here is limited. I won't explain it.)
Domain privacy protection: $0.99 per month
Site Backup Pro: Monthly: $2.99
SiteLock Security: $1.99 per month
Although it is an option option, it is not necessary to pay, but you must pay in the days to come. Many newbies are like this when I just registered. They are a bit confused. In fact, I personally think that these two should be required. The first is to protect your website privacy; the second is the website backup function, which must be available (of course, you can also manually backup, but for novices, this is still a challenging task).
(2) Host price
It has many kinds of plans. Let's take a look at the lowest basic plan in bluehost's shared hosting. The functions are very limited. Only one website, space, email account, etc. can be built. There are restrictions.
There are currently two types, one is the $3.95/month on the homepage, and the other is the $2,95/month in the advertisement. Let's take a look at the lowest of the latter (the picture above)
$2.95/month This is the host fee for 3 consecutive years. Below, bluehost will check the three options Domain privacy protection, Site Backup Pro and Sitelock Security by default, and the total price is US$249.6. If none of these three is $106.2.
If it is 3.95 USD/month, if only one year is selected, it is 5.95 USD/month.
Second about 30 days refund
There is a bit of knowledge in this 30-day refund. When registering a new user for the first time, isn't the domain name given away for free in the first year? But when you apply for a refund within 30 days, the domain name fee of $15.99 will be deducted from your refund, allowing you to remove the domain name, but the new domain name cannot be transferred within 60 days.
Third gift Marketing Offer
When I registered for bluehost host, I also stated that there was a $100 Google advertising fee. However, after the registration succeeded and found out, I asked bluehost support. He said that there is no Google advertising fee in mainland China. Therefore, if this offer is related to Google, mainland users do not have it.
When I registered paid registered users, I was given $50 in Google advertising fees. When I asked them to ask for it, they told me that users in mainland China were not included.
If you use BluehostBuild a Wordpress websiteIf there are few free templates (probably only 5-6), the same is true for paying users. Changing templates requires extra money and is expensive.
If your website needs to be improved over time, it will cost money to add something. There are many upsells, so it is not clear how much money will be spent on bluehost.
To give another example, such asSSL certificate, This is $49.99 per website for one year. This service is not included in Bluehost's low host price (it includes a free SSL Certificate in its premium plan).
Fourth website transfer is not free
Most web hosting providers generally unconditionally support the transfer of websites out of the country (note: here is not just domain name transfer, it refers to the transfer of the entire site).
But Bluehost is not like this
They charge a migration fee of $149.99, how about it? In fact, you are not allowed to remove the website, and the number of websites cannot exceed 5 and 20 email accounts.
There is an additional fee, a 45-minute service introduction will charge $79.99
Bluehost didn't tell you....
The fifth is not really "unlimited hosting"
Most web hosts boast that they can be unlimited hosts, Bluehost is no exception, but in itsTerms of ServiceThe user agrement clause,Unlimited Hosting Space; excessive MySQL filesIt is very clear that if you exceed 3 GB or 1000 database tables, your account will be terminated without notifying you.

Do you recommend bluehost and what customers it is suitable for
Of course it is recommended.
Bluehost is currently one of the best US virtual hosts. The price issue mentioned above does not affect its mainstream host status, but you must know your own needs to choose.
Bluehost is good to good, not all consumer groups can reflect his value. It is more suitable for large-scale website construction and network company applications. These customers have specialized website construction talents and know what functions to choose; it is not suitable for individuals and small and medium-sized website builders (especially novices), because you don't know how to use the website. What function, so it is impossible to play the value provided by bluehost, so for the latter I recommend usingWA hostorShopify cross-border online store system.
Bluehost looks cheap, but it is actually quite expensive (for novices). It hides a lot of costs. However, the initial users will not perceive or perceive this. With the development of the website, it will gradually be exposed, and eventually you will not be able to figure it out. , How much does it cost to make a profitable and successful website?
Suggestions on how to buy
The cheapest of many domain name vendors is similar to basic plan (with different names, the same meaning, some are called start plans, etc.). It looks cheap, but in fact it is not cheap at all. Because it provides the most basic functions, as the website develops, you must expand it.
This depends on what you achieve. As I said above, if you are a newbie, try to choose free subdomain website tools and virtual hosts, such assiterubix,weebly,WordPress.comAnd so on, for practicing, learning, understanding a certain level, choosing the right site and paying plan.
If you are a professional, you know what you want to buildNiche MarketIf you know what functions the website needs, don't choose basic or the like. You have to choose its mid-to-high-level plan, which can be done in one step. Such a package purchase is relatively affordable.
In short, whether it is famous or not, remember that there is no free lunch in the world. Don't choose too cheap (think about it, so cheap and so good, how businesses make money, there is no such thing as good quality and low price. ).
I can tell you that all free websites/projects on the Internet will ultimately lead you to their paid projects. This is inevitable. There is a world of difference between the functions and benefits provided by paid and free. After all, we are not How to choose free, but to learn how to understand and screen through free, so as to make a decision to choose which paid item is the right one, otherwise you are likely to fall into some scams under the banner of free.
Most things that are free or cheap are very expensive.