Do you know that you can turn more lead potential customers into consumer customers through autoresponder emails? Email autoresponder is the most effective way to cultivate leads and increase sales. Moreover, once the creation is complete, it can be said that you are done.
What is Autoresponder-why do you need it?
Autoresponder is a series of emails automatically sent to a specific group of people in an email list, which is triggered by specific events (such as email list, browsing a website, abandoning a shopping cart, downloading a PDF, or purchasing a product).
The autoresponder series establishes a connection with the email list, and then converts lead potential customers into paying customers. In terms of lead conversion, it is a very powerful marketing tool.
Since the autoresponder function automates email marketing and sales, you only need to focus on this important aspect of your business, without having to spend extra energy on email-marketing.
The series of automatic replies to these e-mails are prepared in advance, and the sending time is also predetermined, and marketing emails will be automatically sent to subscribers at that time.
You may ask: "Is this kind of autoresponder necessary? Is it necessary?"
Yes, it's simple: Every online business needs Autoresponder Series. This is because:
1. Can cultivate lead potential customers
When lead potential customers register for email and join the list, they can use autoresponders to establish relationships with these people.
Send valuable information to lead potential users and teach them how to make better decisions.
This kind of autoresponder mail is not just as simple as mass mailing compared with that of daily mail, but each email user can get his own unique and personalized experience.
2. Turn lead potential customers into customers
The ultimate goal of autoresponder is to convert email subscribers into paying customers, and this is what autoresponder is best at.
Through the autoresponder series of emails, before the product is sold, first establish a contact with the email subscribers. This contact has a rough sequence:
knowledge***
Some likes and recognition at the beginning***
Trust in ***
Payment for purchase
In this way, more customers can be converted, so if you want to do this, you can't rush for success. And autoresponder sent by mail, it is designed such an effective conversion step.
6 steps to increase the conversion rate of potential customers with autoresponder
Step 1: Select target for Autoresponder
There are many different goals that can be set for the auto responder, the following are the main four goals:
A. Send a welcome series of emails to new subscribers
This is the message that users will receive immediately after subscribing to your email list.
Generally, this email message includes a link to your lead magnet, to facilitate downloading, thank you for subscribing, and a call to action to view your most popular blog posts, etc.
What is Lead Magnet? Lead Magnet is a marketing term that refers to the collection of contact informationFree giftGoods or services. 
Every email list needs a welcome series of emails, so don't miss this opportunity to "attract" new subscribers and turn them into loyal supporters and consumer users.
for example.AhrefsIt is a well-known SEO optimization tool, and users can sign up for a trial for free. From the moment you start to register with email, you will receive a series of marketing emails from Ahrefs to teach you how to set up a backlink. Ahrefs will send the following marketing emails:
2 days after registration, I received the first email: How to get more backlinks
4 days after registration, you will receive a second email containing a video, teaching you how to steal SEO traffic from the competition
6 days after registration, I received a third email containing a list of SEO tutorials
Through its welcome email sequence, Ahrefs introduced customers how to use their tools to convert these email subscribers into paying customers.
B. Use as a lead magnet/free mini-course
This is usually done in the form of free mini-courses or challenges, promising to send a series of e-mails containing courses or other valuable information within a few days or weeks.
Mini-course/challenge has a high perceived value, which makes it a very effective lead magnet.
Below is an example of a registration page for a free mini-course on Facebook ads. The course is provided through an automatic response sequence, which consists of 7 emails sent to the subscriber's mailbox within 18 days.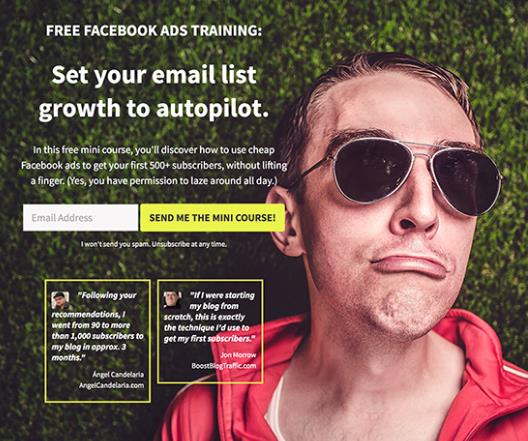 Simple Green Smoothies Provide 30 days of free challenges, and receive an email every week with recipes, shopping lists and tips.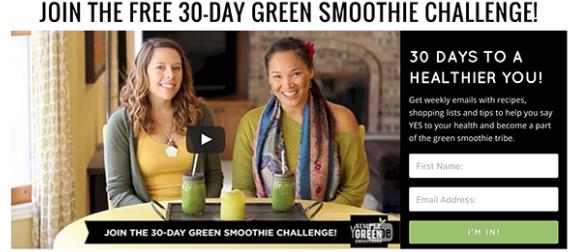 C. Realize automatic sales
The creation of sales channels based on the autoresponder sequence of emails is a very common information marketing strategy.
The founder of the product launch formula,Jeff WalkerUse an automatic response sequence consisting of three educational videos, a sales video, and follow-up products to sell his information products.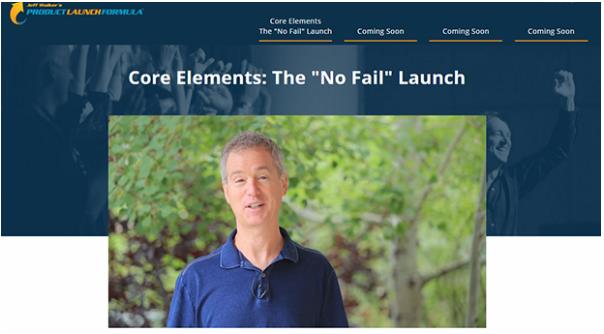 Create a series of free educational emails, and then invite subscribers to participate in real-time or recorded webinars.
For e-commerce businesses, your automatic order can include product promotional offers that subscribers have just seen on the site.
Auto-responder sales channels are endless.
D. Promote up-selling/cross-selling
After the user purchases, set up an automatic reply series of emails in order to make such customers become repeat customers.
Depending on the products already sold, provide up-sell or cross-sell related products. For example, if someone purchases a digital camera, they can offer to add lenses, tripods, and other accessories to them before ordering.
When selling frequently purchased products (such as food or disposable items, such as diapers), if you know that a new order is about to expire, you can automatically send them a quote for the new product.
Step 2: Segment the mailing list
Email list segmentation is the process of subdividing it into smaller (detailed) categories based on specific conditions (such as demographics, buyer role, interests and other psychological characteristics, stage of the sales cycle, etc.).
In this way, you can send more targeted, specific and relevant auto-reply emails to each segment to get better conversion results.
According to Mailchimp's research, on average, sending a campaign to a segment list can:
Open rate increased by 14.40%
CTR increased by 62.83%
Unsubscribe rate reduced by 8.54%
In other words, segmenting email lists can lead to a higher return on investment for the campaign. Only by subdividing the email list, autoresponder will be efficient.
The easiest way to segment a list is to start segmenting as soon as a user subscribes to an email.
With the help ofOptinMonsterDisplay rules can provide targeted opt-in offers based on what the visitor is currently viewing, how to find relevant content on the website, and whether other offers have been selected.
In this way, you can know exactly how to add subdivision tags to the subscriber and what kind of autoresponder to use.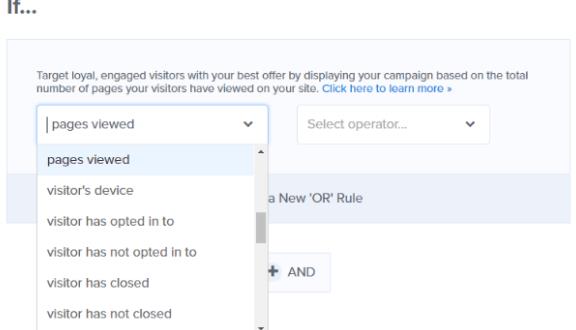 useOptinMonster integration, You can automatically add new subscribers to a specific e-mail subscriber list.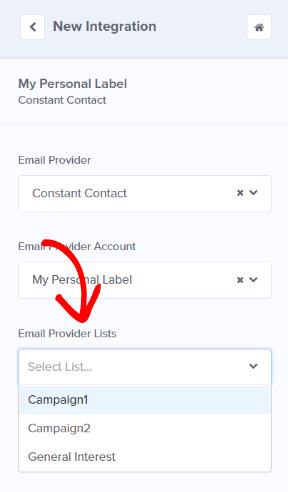 Step 3: Choose the right email marketing software
E-mail marketing automation solutions can realize the arrangement and automatic sending of series of emails. The following are currently more popular email marketing software tools, each has its own advantages and disadvantages, you can choose the right one according to your own situation.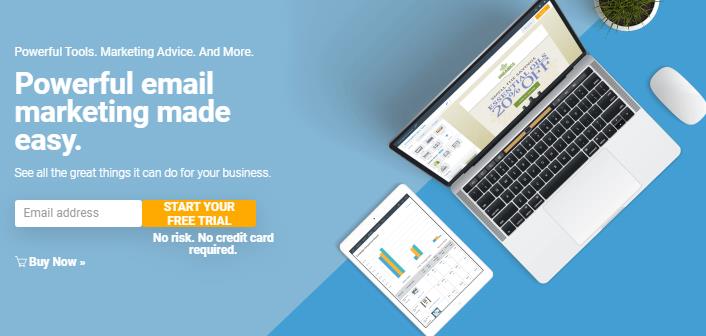 The Constant Contact interface is clear and easy to use, which can meet the needs of large corporate websites and mom and pop (small family self-operated). Moreover, the monthly starting price is only $20, including first-class support and services.
The platform has excellent features, such as built-in heat maps, knowing what visitors are paying attention to, comprehensive reports, custom templates, and so on.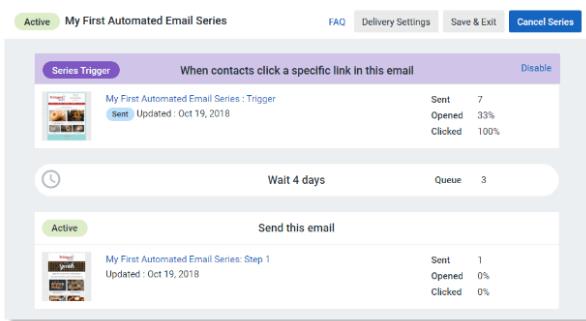 SendinblueIt is a powerful email marketing tool with low start-up cost. With Sendinblue, even free users can add an unlimited number of contacts.
Free users can send 300 emails per day, which can be expanded as the email list grows. The premium package is a bit more expensive than constant contact, starting at $25 per month.
The main functions of Sendinblue include powerful segmentation tools, automated workflows, automated response activities, and optimization of sending time.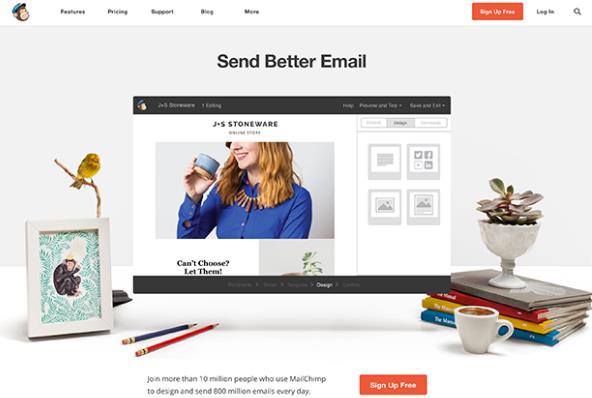 Mailchimp is currently one of the most popular email marketing tools. This is very useful for users who are just starting out, easy to set up, and the user interface is clean and intuitive.
Mailchimp has a free plan for up to 2,000 subscribers. However, if you want to use the autoresponder, you must pay.
Paid plans start as low as $10 per month. There is one on the Mailchimp websiteCalculator, Can help users to calculate which paid plan is suitable according to their needs, the price of Mailchimp Pro is 199 US dollars per month.
The disadvantage of Mailchimp is the lack of customer support, the only way to contact is through the pageContact form.
However, if you use the Mailchimp Pro package, you can get priority support, but the price is higher.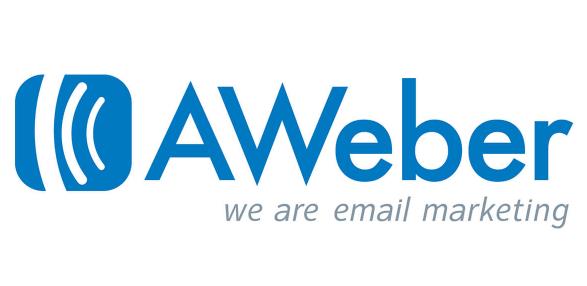 AWeber has the same features and functions as Mailchimp, but there are some differences.
AWeber can use website visits, clicks, purchases, and even create segmented lists based on the geographic location of subscribers, making the operation easier.
In terms of customer support, it is better than Mailchimp. Contact methods include phone, email and online chat.
However, Aweber has no free plan, starting at 500 subscribers and $19 per month. 2,500 subscribers pay $49 per month. However, all plans offer a 30-day free trial period.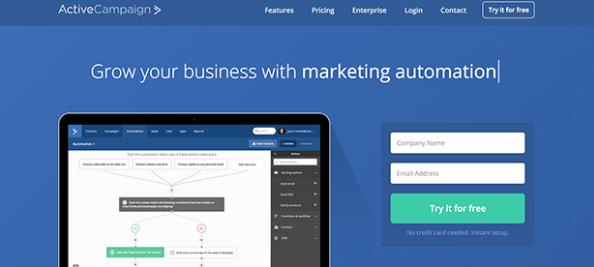 ActiveCampaign is an email marketing software that focuses on marketing automation.
In terms of automation, it is more advanced than Mailchimp or Aweber.
Based on the actions and behaviors of the subscribers, add tags to their profiles to display more information about the subscribers.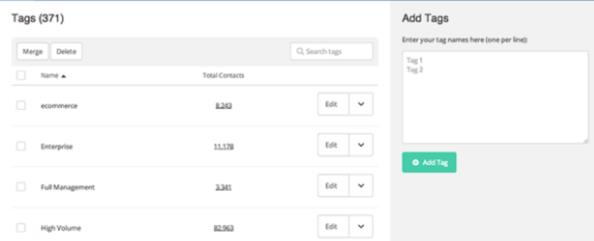 As time goes by, more and more email subscriber data are collected, and more and more personalized campaign designs are designed, which will lead to higher conversion rates.
The disadvantage is that the price is slightly higher.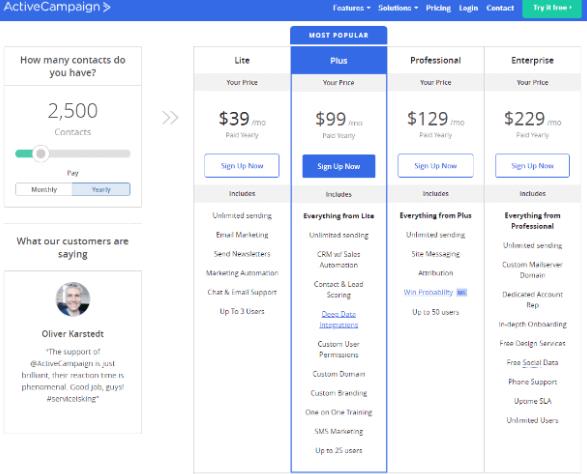 Step 4: Plan the entire email response sequence
To draw up an outline for this mail sequence, first of all, you need to determine how long the sequence will take, and the time between mail sending (that is, the frequency of sending).
In fact, there are no general rules for the above problems. In principle, this time should be long enough to accomplish the goal, no more and no less. Therefore, its length should depend on its purpose, audience segments, subscriber preferences, etc. This requires a certain period of time to test (use experience) to be clear.
For a simple welcome email sequence, three emails may be enough. For publishing and selling products, there may be ten or more emails. There is no limit to how many emails you can receive, and the autoresponder of some email marketing software can run automatically for several months after the user subscribes.
Several years ago, I joined the email list of some websites. Although I haven't bought anything, it has been sending me emails for at least two years. However, there are a lot of emails, which I think are quite valuable and I am willing to read them.
Then, set up the sending of the mailIntervals.
Send an educational email every two days. When the shopping cart is closed and the current offer is about to expire, three to four emails can be sent within one day to remind the other party. The above is completely dependent on the goal of the sequence email (this is why First select the reason for the target in step 1).
For educational emails, the interval between emails depends on the time required for the subscriber to learn the content. At the same time, if you only send emails once a month, they may forget you, and it will be difficult for you to convert them along the sales channel.
Need to determine how much to send"valuable", and then send the "offer" (sales) email.
The thing to understand is: the more emails, the better. In these emails, don't have too many sales emails, but send more valuable and meaningful emails to prevent users from being bored by your sales emails and unsubscribe.
Use the 80/20 rule: 80% of emails should have value, and only 20% of emails are about sales.
Email sequence overview
Write down this sequence overview list as completely as possible, describing the subject of each email and its call-to-action.
The call to action can be a link: share your blog post on social media, respond to emails or buy products.
The following is an example of a sequence to start an information product:
Letter 1: Introduction and thanks for subscribing.
Letter 2: Explain the importance of a specific topic/problem, which helps build demand for the product.
Letter 3: Describe the actions required to solve a specific problem/achieve a specific goal. This can build credibility and help customers in advance.
Letter 4: Explain in detail how to solve the problem accurately, then talk about sales, and mention that new products/plans will be launched within a few days.
Letter 5: Start the product. Tell subscribers that the product is already live and can be purchased in the next few days. After that, the shopping cart will be closed and cannot be used, or the normal price will be restored in the past few days.
Letter 6: Remind subscribers about product information. How many people have bought it so far, what others think about it, and how much is left.
Letter 7: The first email of the day before the end. Tell the subscriber that there are 24 hours left, after which it will... Remind them of what they will learn in your program and the benefits.
Letter 8: The second email from the day before the end. There are only a few hours left for the further transition. After that, there will be no...
Letter 9: Two hours before the end. Tell subscribers how much is left will change your life so much.
Letter 10: The shopping cart is closed. Send an email to the user stating that the product is no longer available. Share data about how many people have joined your program. thanks for your support.
Step 5: How to create an email sequence that can increase conversion rates
Focus on subscribers (readers): Should insist on writing e-mail to solve the needs of subscribers.
Writing automatic responses to a series of e-mails may be the most difficult part of this task. Some websites outsource this kind of work to professional ad copywriters. However, whether it is outsourcing or creating by yourself, you should know:
Follow readers: You should always write emails to address the needs of subscribers (not your subscribers).
Provide a solution to the problem, not just talk about how good your product is. This is where many people have a wrong understanding of email marketing.
Before writing an email, ask yourself the following questions:
What is the subscriber's biggest pain/struggle?
What are the subscriber's current goals?
What are the interests of subscribers?
Why do subscribers subscribe to my email?
How to resolve their current issue in this email?
Why should the subscriber read this email? What is the greatest benefit for them?
Use personalization. According to the segmentation in step 2, personalized email content will make the content more relevant and valuable.
Personalization is not only about inserting the subscriber's name into the email, but also the actual content of the email to meet its needs.
E.g,How to build backlinks for your online storeEmail with a headlineHow to build backlinksMore valuable.
It is important to study the writing of the email title. Most people only look at the headline. A good headline will arouse people's curiosity about the content, otherwise the email will not be opened. In fact, the title writing of these few words occupies most of the energy of the entire email writing, so it is refined.
Step 6: Monitoring and improvement
In order to get the best results, you should monitor the effectiveness of emails to see where improvements are needed, for example, do some A/B testing.
When analyzing these auto-response campaigns, keep the following in mind:
Mail open rate: If the number of people clicking and opening emails is very small, it means that there was a problem in the beginning of the job. When these subscribers do not open the mail, they may also open and read future mail.
According to the statistics,The average open rate of automatic reply emails in all industries is 22.87%, This data is for reference only. However, this data may vary greatly from industry to industry.
If the open rate is low, test and check the following:
Is the automatic reply related to your list? Consider further subdividing the email list.
Are the email headlines eye-catching and eye-catching? Test some new titles to see.
Is the email sent at the best time? Test sending emails at different times of the day or at different time intervals.
Click-through rate. After the subscriber opened the email, did they take any action that they needed to take?
The average click-through rate of cross-industry email is 3.26%. If your click-through rate is low, the text may not have the desired effect.
Consider the following questions:
Is the content of the email related to the subject? Don't trick users into opening emails with false promises.
Does email provide real value to subscribers? How do you make the content of the email match the subscriber's needs?
Is the call to action clear enough? What are the benefits of clicking this email?
Is the link easy to find? Consider repositioning text links or call-to-action buttons.
Unsubscribe rate. In any case, unsubscribe will always happen, it doesn't matter. Generally speaking, those who have not subscribed will never buy products from you.
This is not only the case with email marketing, but also with the kind of membership registration websites. Generally, this kind of registration website also provides the user to close the account by himself. Generally, if you log out, it means that you are not interested in this and will not come back. Before i didSFI(This is an MLM project) is a website that pulls people's heads. The founder of this website prohibits members from pulling their downlines after they have exited. One is that it has no value; the other is that it damages the reputation of their website (that is, these people). I think some bad projects and products will write some negative onesreview article).
However, if the unsubscription rate is high, it may indicate that you are losing these lead potential customers.
The average unsubscription rate of various industries is 0.53%. If your email unsubscription rate is much higher than this, you should consider and check the following aspects:
Why would you subscribe to my email list? Do these people really want to learn more about a particular topic? If so, does the content of the emails I send provide the information they want?
Does the auto-reply content of the email match the segmented mailing list?
Are there too many or too frequent sales emails before sending valuable (educational-this type of email has nothing to do with sales and sales) emails?
in conclusion
The role of Autoresponder autoresponders goes far beyond what is automatically sent to subscribers. They enable you to proactively attract potential customers, nurture them, and turn them into paying customers.
With the automated and highly personalized features of email marketing activities, you can turn your website into a sales machine!