How can Chinese or other people who use English as a second language ensure that their English writing is error-free and easy to read?
English spelling errors and grammatical errors can be embarrassing, and sometimes these errors can even reduce the credibility of the article ( For example, the English description of products with many errors). Two years ago, I accidentally discovered Grammarly, a grammar check tool for proofreading articles, book chapters, and blog posts. It is excellent, and the key is that the free function is also very good.
What is Grammarly
Grammarly is the most commonly used and accurate English grammar checker, spelling, proofreading check, and plagiarism detection software tool. Grammarly proofreads over 250 grammar rules, which were released in 2009. And no matter what method is used to write-social media, email, Microsoft Word, etc., Grammarly can provide real-time checking of the entire English writing process.

For spelling and grammatical errors, Grammarly Highlight ( red and yellow ) and underline them, and then hover the mouse on the specified word or phrase, you can directly modify the error or understand the detailed description of the error.
Grammarly uses its own algorithm to mark various potential problems in the text, and at the same time provides automatic correction suggestions for various errors based on the context. Its artificial intelligence effectively improves text communication.
In addition to checking for contextual spelling errors and irregular verb errors, it also includes common grammatical errors, such as the use of subject verbs and the placement of modifiers. At the same time, Grammarly also provides synonym suggestions to make writing more readable and precise. Grammarly allows us to write in English with confidence.
Currently, more than 10 million global users are using this tool to repair their social media posts, emails, and articles. In addition, it also increases English vocabulary by identifying and correcting contextual errors. This tool helps to improve writing style and make the written text more attractive and effective.
What can Grammarly do
Grammarly, as an English writing tool, can help you check the following types of writing problems:
1. Check English Grammar
The most important function of Grammarly is to check English grammar, for example, irregular verb errors, and common grammatical errors: the application of the subject, predicate, correct verb tense, position of modifiers, etc. Grammarly also provides synonym suggestions to make writing more readable and precise.

2. Check Spelling Errors
Spelling errors are the most common and basic problem for writers. Regardless of your English writing level, this error is the least likely to occur. In this regard, Grammarly is a powerful spell check tool that is more comprehensive than the built-in spell check in Microsoft Word.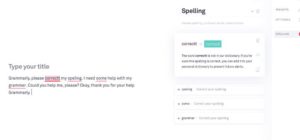 3. Check English Content Plagiarism
Plagiarism is a common problem. No one wants their hard work to become the result of others' unearned work. Grammarly's Plagiarism check function is also very good. It can compare the text with billions of pages on the Internet. This has two aspects: whether someone has copied your content; whether your writing is copied from others.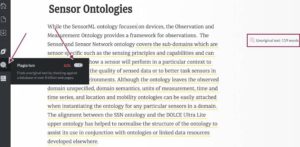 4. Check English Writing Style
Grammarly will also check the article for any errors in the writing style, including the use of passive tense, which helps to avoid the repetition and length of words and sentences so that you can adjust your English writing style according to your audience.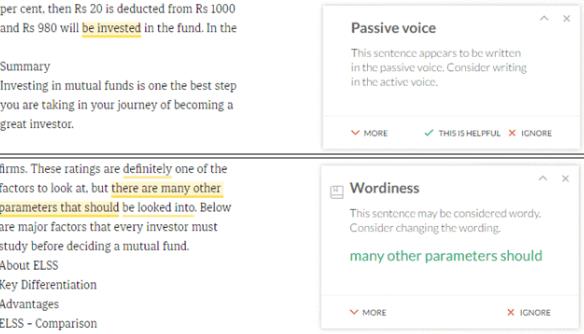 5. Check Sentence Structure
Almost all non-native English speakers like us, when writing in English, is difficult to form a correct English sentence structure because of the differences in the Chinese and English and even the thinking mode. Although sometimes others can roughly understand what you are trying to say, the sentence structure and grammar are wrong, which will be very imprecise. Grammarly can effectively solve this problem.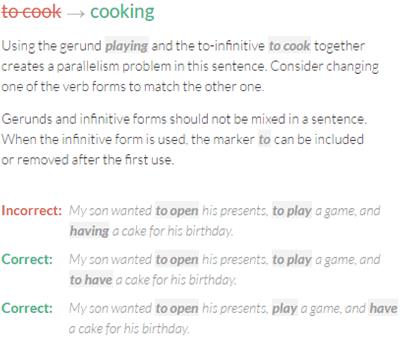 6. Check Punctuation
Grammarly helps you give the correct punctuation in the perfect place, so that the article looks professional to the reader.

As shown in the picture above, Grammarly can quickly detect missing and unnecessary commas. Punctuation may not be important for regular blogs, but it is essential for students who write reports and essays and submit projects to teachers for evaluation.
The above function is the English writing step, the last step necessary for proofreading.
Grammarly features
From a personal point of view, Grammarly's various functions have the following four characteristics:
1. Easy to Use
Some people may feel a little complicated when they hear about "software", but Grammarly is very easy to use and intuitive (see the user guide below), and automatically displays various errors in English. Compared with similar English grammar checking and collaboration tools (such as ProWritingAid, Ginger, etc.), Grammarly is the easiest to use.
2. Accuracy
After talking for a long time, the accuracy of various tools is the key. If some errors cannot be checked, then even the checked errors are meaningless, and there is no difference compared with manual proofreading.
I think that for the above functions: the accuracy of checking for errors in grammar, spelling, punctuation, and sentence structure is 100%, you canFree testVarious English documents and articles.
So which aspect is not completely accurate?
It is the writing style of English (writing style). The reason for this problem, my personal opinion is: if there are too many words, such as a book, all contents cannot be checked by Grammarly at the same time, because there are limitations on file size and number of words, this is also easy to understand, this requires manual proofreading. Check for yourself to see if the words used in the context are consistent.
3. Easy to understand the error correction explanation given by Grammarly
Grammarly can not only point out your English writing mistakes, but also explain them below. This will help you understand the reasons for making mistakes and improve your English learning and writing skills. The explanation is very clear.
For example, Grammarly will prompt whether to overuse certain words, where to place punctuation best, and so on. It's like an English teacher sitting next to you, correcting, explaining and helping you at any time.
4. Personalization
Personalizing and customizing Grammarly will be very convenient to use in the future. In addition to defining the preferred language, one of the most valuable aspects of this feature is:
You can add frequently used new words to the dictionary, such as brand names, slang or abbreviations, etc., especially for uncommon terms, so that next time Grammarly will no longer prompt as an error, it will be your own custom English dictionary. , This feature is very useful.
If these words appear for the first time, there is no need to fix or ignore these errors. Just hover the mouse over the word and click "add to dictionary" in the pop-up box, as shown in the following screenshot:

Grammarly can choose American or British English, and can choose the type of writing. This is very useful because you will use different styles when writing for different audiences.
Grammarly usage guide
Someone may ask: Do I have to copy and paste everything written into the text box to check the writing content?
Because that would be a little troublesome, don't need to. Grammarly is an Internet-based tool. As long as your computer is connected to the Internet, use one of the following simple methods:
1. Use directly on the Grammarly website
(1) Click New to generate a new page
Copy and paste the written content directly into the Grammarly website tool.
Very simple, after entering your Grammary Account, click the NEW button, as shown below:
(Note: The prerequisite for using Grammarly is-whether it is free or paid, it mustregister, It cannot be used without registration. )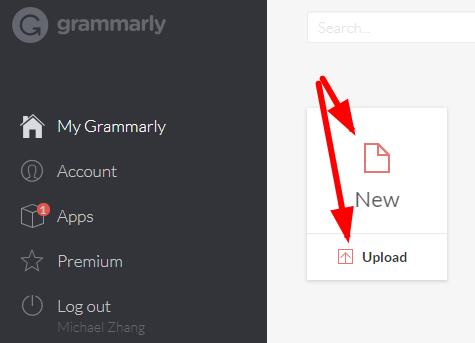 An empty package page will appear, copy the text here, as shown in the figure below: After copying the text to the page and keeping it for a few seconds, the Grammarly tool will begin to analyze the text content.
(2) Click upload to upload the file
You can also upload documents through the dashboard to achieve the same effect. Click upload, select a document (such as a Word document) from the computer, Grammarly will analyze the content in the same way, and the result is the same as the above method.
2. Desktop app

If you like to check English writing through a desktop application, there is no problem, provided that the operating system is Windows or MacOS. at thispageDownload this app and follow the instructions to install and use it. The tool is the same as the online version.
3. Use in Microsoft Word
The Grammarly add-in can be used directly in Microsoft Word.hereVisit the add-on page and follow the instructionsAdd it to Word. After it is up and running, Grammarly will automatically load and check the writing content when you are writing in the word document in English.
4. Grammarly Chrome Extension
One of the easiest ways to use Grammarly is to use the Chrome extension, which is directly inGrammarly homepage installationThat's it, you don't need to search in google extension to open it again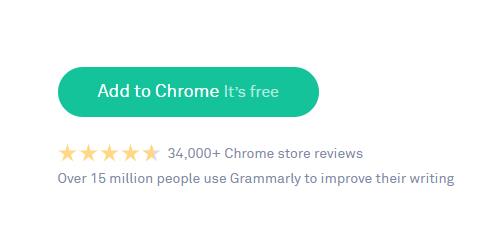 Some people say that the extension is unavailable
It's very simple, it's because you don't haveLog in to your grammarly account, If you are not logged in, open the grmmarly extension in the chrome browser, the following conditions will appear: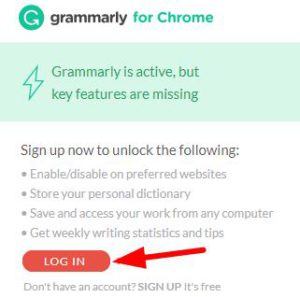 After installing and logging in, open the extension, you can choose 4 English stle (American, Australian, British, Canadian), then you can edit English text on any website, Grammarly can effectively check the grammar, as shown in the figure below: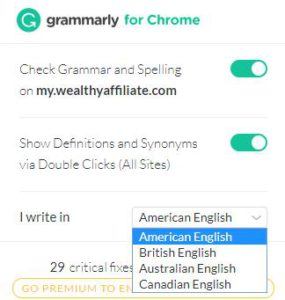 Can Grammarly be used in Microsoft Office software?
no problem.
Grammary offers and discount prices
Grammarly is free to use. Of course, you can also upgrade to a paid user according to your needs. There are two types of plans: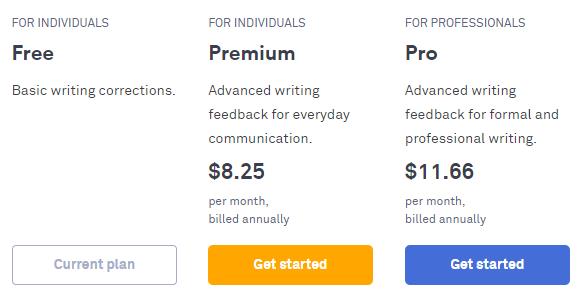 Premium price: $8.25/month
Pro price: $11.66/month
Grammarly disadvantages
I think the biggest disadvantage of Grammarly is the difference between the free and paid version. Free functions are limited, which is completely understandable. After all, it is commercial software and must be profitable.
But in my personal experience, its free function is very good, automatic check, very easy. If the free version does not meet the requirements, I will gather all the English articles together, buy it for a month, and solve them all. After the expiration date, I will continue to use its free functions. This varies from person to person.

Moreover, Grammarly has been improving. For example, Grammarly could not be applied to Google Docs before, which was a big flaw. Now there is no problem.
Grammarly usage restrictions
1. Limits on the number of devices
Grammarly members are allowed to use up to 5 devices
2. File restrictions
In any 30-day period, you can check up to 300 documents or 150,000 words. In any 24 hours, you can check up to 100 documents or 50,000 words.
3. Page restrictions
When using Grammarly Editor on the grammarly website, you can check up to 100,000 characters, including spaces. However, using Grammarly in Microsoft Word and Outlook is not subject to this restriction.
4. Upload restrictions
If inGrammarly URLIf used, upload files less than 100 kb or 100,000 characters (including spaces) each time. The following upload document types are supported: MS Word (.doc, .docx), OpenOffice (.odt), txt and .rtf. If it is a very large document, upload it in separate batches.
Grammarly Frequently Asked Questions
1. Can Grammarly be used in Microsoft Office software?
no problem.
2. What kind of person or group is suitable for use:
Millions of writers around the world trust Grammarly's products, which are also licensed by more than 600 top universities and companies. Grammarly helps students achieve academic goals and improve their writing skills in essays, reports, theses, dissertations, and college admissions applications. Professionals use Grammarly to provide expert help and instant feedback on the accuracy, influence and credibility of English writing in various fields such as law, healthcare, academic, marketing, engineering, and journalism. For job seekers, foreign students and English learners, and non-native English professionals, grammar can be an equally powerful tool.
student
English website/blog owner
Translation company/free translation
3. Can Grammary replace manual proofreading?

As mentioned earlier, Grammarly is also very accurate in checking. However, if your writing requirements are very high, such as English novels and advanced academic papers, Grammarly's background and in-depth understanding is definitely not as good as manual proofreading. However, after using Grammarly to check this kind of English content, manual proofreading work in this area will greatly save manpower.
4. grammarly refund
As far as I know, Grammarly originally supported refunds within ten days, but the current policy should not support refunds.
5. What is Grammarly Premium?
Grammarly Premium is a paid upgrade that provides more than 400 types of inspections and functions. It checks for grammatical errors, provides vocabulary enhancement suggestions, detects plagiarism, and provides citation suggestions.
6. Can I use Grammarly on my mobile phone?
No problem, Grammarly can be installed and used on iPhone and Android platforms.
7. Grammarly is used by people from non-English speaking countries
Grammarly is widely used in various countries, with more than 10 million users. From the statistics below, it can be seen that, except for the country of origin, India is the most used country (many Indian websites in English, no matter from which point of view , Including the language is quite professional, it is impossible to see that it is made by people in non-English speaking countries, but it is better not to watch their youtube video, I can't understand it).
Again, it is China. It can be seen that apart from the United States, India and China are the most common countries to use Grammarly. It is not the United States, but India. This proves that Grammarly is very helpful for non-English Writers.

8. About Grammary cracked version
Grammarly can only be used correctly if it is connected to the Internet.
Back then, I was proud and happy to use various cracked versions. I am very interested in all kinds of cracking software and games. As long as I find which one is better, I will do everything possible to find the cracked version. It feels very fulfilling to use it, and "saves another sum of money."
Now, I started to make websites and study myself, and gradually I have this concept of respecting the knowledge and labor of others. In addition to this, there is another important issue. Many software and websites have taken this factor into consideration, and there are also many countermeasures. For things like this, the cracked version of the application is sporadic and will lose many functions, and the gain is not worth the loss.
9. GRAMMARLY compatibility and integration
Microsoft products, firefox, Github, LinkedIn and the following can be seamlessly connected with Grammarly:

How to cancel Grammarly automatic renewal
Log in to yourGrammarly Premium account
Click on the leftAccountButton
Then click on the leftSubscriptionButton
Then click at the bottom of the page Cancel Subscription , And then confirm
Grammarly
Free and paid $8.25/month
English grammar check
9.5/10
Check for spelling errors in Chinese words
10.0/10
Sentence structure check
9.5/10
English writing style check
9.3/10
English content plagiarism check
8.6/10
Pros
Similar grammar tools are the best
Fast and accurate
Simple to use
Applicable to PC/Mac/Mobile
Cons
Free features are limited