Before understanding the difference between http and https, you should first knowWhat is Http and Https, And compare, you will know the specific difference. To put it simply, http website is not secure; https website is safe, it meansSSL certificateHttp of the outerwear.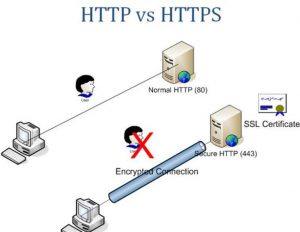 The URL of the HTTP website starts at "HTTP://" , And the HTTPS URL starts at"HTTPS://"
HTTPS is certified by an SSL digital certificate, and the website is secure; while Http does not have any SSL security certification, which has potential security risks. The risk of the website being hacked is extremely high, and the communication data will be tampered with.
HTTP port is 80, HTTPS port is 443
HTTP data transmission is not encrypted; while HTTPS must be encrypted before data is sent and received.