OberloIt is a popular Dropshipping app in the e-commerce platform Shopify, which allows shop owners to easily transfer products fromAliExpress, And suppliers that have been verified by Oberlo directly into the store, automatically complete the order and ship the goods directly to the customer. At present, Oberlo has become an indispensable and powerful profit tool for Dropshipper.
Oberlo will take you away from the tedious and tedious work of product selection, price information update, etc., and focus on marketing and sales.
Why DropShipping uses Oberlo
For those merchants who do not like to adopt supply chain and inventory management, Dropshipping is a very attractive business model. Through dropshipping, merchants complete orders by directly shipping products from suppliers, eliminating the need for inventory management, simplifying operations and saving costs.
Although the DropShipping model and prospects are good, for most dropshippers, the difficulty lies in:
After the store is built, I don't know what to sell, and where to look for goods;
How to find reliable and reasonably priced high-quality suppliers;
How to improve the convenience and efficiency of the process of placing orders from suppliers, completing orders, and shipping to customers.
Reduce time and money costs (starter plan is free, I will talk about it later)
Then Oberlo is a powerful tool to solve the above problems.
Let's analyze several functions of Oberlo, and learn about this powerful DropShipping tool.
Oberlo features
Oberlo's goal is to connect your online store with many excellent suppliers/manufacturers, so that you can directly select products from the store's back office and update them in sync with the store.
Using Oberlo can truly eliminate the need to store, package or transport your products, and make online sales simple and easy to operate. As a result, dropshipping can be started without much capital, and the integration is smooth.
1. Oberlo supply-never out of stock
For finding dropshipping products, Oberlo can be said to be the best solution so far. There is no shortage of products, types and quantities that can meet the needs of merchants.
Oberlo has a myriad of products to choose from, filtered according to various category criteria, such as beauty, home and jewelry, and can be searched from the search bar.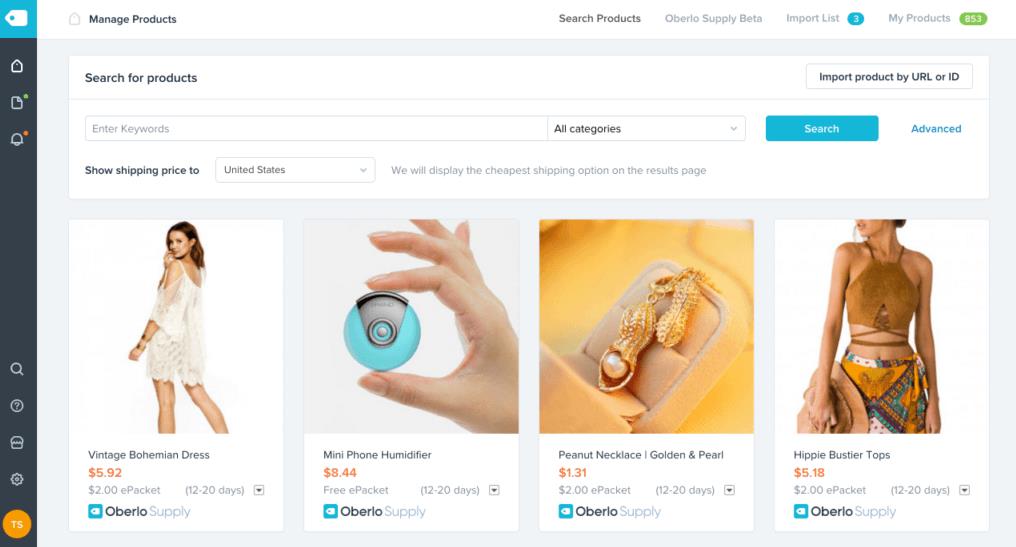 2. Quickly import products from AliExpress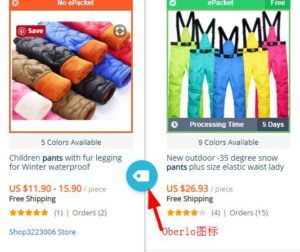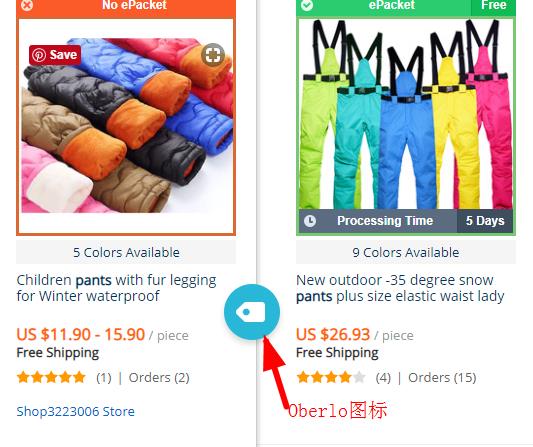 AliExpress is a very important source of goods (suppliers) on the Shopify platform. Quite a few dropshippers are looking for products and suppliers on AliExpress.
Use Oberlo to quickly import product pictures, descriptions, prices and other information into your shopify store,click herecheck the details.
3. Use ePacket to find products
When many shopify merchants purchase from China (AliExpress), they mostly use ePacket (also known as E-Mail/EUB/e-Net-delivery/e-Express), which is also a common delivery channel provided by Chinese and Hong Kong sellers to international buyers .
If you can use this shipping method to search for products, you can undoubtedly improve the efficiency of dropshipping.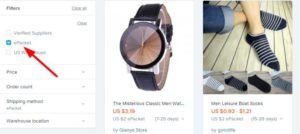 4. Suppliers verified by Oberlo
Moreover, in addition to the huge supplier group AliExpress, Oberlo itself also provides more reliable suppliers.
I was planning to open an online shop in the early years, and I found some products from China. When I was doing it (in fact, it was in the preparation stage), I found some problems. Because you don't know how many orders there will be when you just opened the online store (or maybe not, but this preparation work still needs to be done in advance), which countries these orders will come from, then you need to pack and quote according to the number of possible orders, and later found that this is almost It was an impossible job. I felt that it was more troublesome than online store promotion and contacting customers. In this respect, it was time-consuming and very worthless (the same is true for trade quotations), and I gave up later.
At present, the United States has withdrawn from the Universal Postal Union (UPU), so the impact on domestic small export trade (international express parcels) is relatively large, especially in freight and time. However, Oberlo may give you another Rare opportunity.
In my opinion, dropshipping is also an international trade, but it avoids a lot of cumbersome trade procedures. You only need to use Oberlo to choose a dropshipping company warehousing in the West, place an order, and then the supplier will send the goods directly to the customer. , Which greatly improves the convenience of operation.
If the company address and warehouse of the dropshipping supplier you use are both in the United States, and the customer placing the order in your online store is also an American, although you are in China, it is no different from doing business in the United States (and in the United States, Even the entire North America is free shipping, and the delivery speed is fast), you only need to focus on promoting the online store and products, and nothing else. (In this case, dropshipping is the same asaffiliate marketingVery similar. ) It really complied with that sentence: God closed a door for you and opened a window for you. As long as there is a computer with Internet access, this kind of transnational business can be done in any corner of the world without being trapped by trade policies.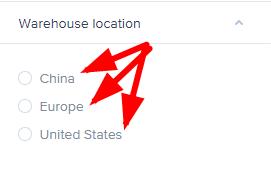 Oberlo only provided connections with AliExpress in the past. After all, the more suppliers are from China, the time and freight of international transportation is still a small problem, and sometimes it will cause some troubles.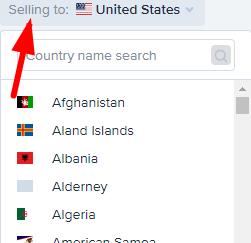 However, Oberlo now adds two more suppliers: Oberlo Verified Suppliers and Oberlo Suppliers. These suppliers are companies that have been reviewed and monitored by Oberlo (the number is still increasing). The addresses of these companies and their warehouses are all over the world. They not only have great advantages in shipping, but also in product quality and dropshipping processes. Very good protection.
For details, seeThe difference between the three Oberlo suppliers
5. All products can quickly change the supplier
Of course, in addition to providing a large number of products and many suppliers for your store, Oberlo has another outstanding performance for the supplier function:
Maybe your shopify store has already added products from AliExpress or other places before using Oberlo, and it has been put on the online store for sale. However, as time goes by, some product suppliers may no longer exist, or may not cooperate with you, or the price may be higher, etc., then you can use the override function in Oberlo to change the supplier of these products. , In order to meet your requirements.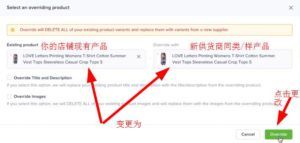 Proceed as follows:
Enter the oberlo app in the background, then enter the product page, and find the product that you want to change the supplier;
In the "Action" button, select "override this product", and then copy the new supplier product link here;
Click "Override", and then enter the import list page to view the new product;
Click the "Push and Override" button at the top right, and you're done.
When using the oberlo overide function, Oberlo will automatically find the product you want to override in the order, and then "replace" one-click over.
There is no need to insist on using one supplier. If you find that other suppliers have better prices, you can switch to a better supplier by simply clicking the button.
6. The backend of the online store is convenient for product introduction and management
In addition to the convenience of importing AliExpress products, for the oberlo supplier and verified suppliers mentioned above, the task of importing goods can be completed directly in the Oberlo/shopify interface.

Similar to the WordPress configuration, after the shopify online store is connected to Oberlo, a series of very clean and clear buttons will be displayed on the left side of the dashboard to complete various tasks. For example, searching for products, setting up featured products, importing lists or facilitating viewing products and the sales and income information of each product.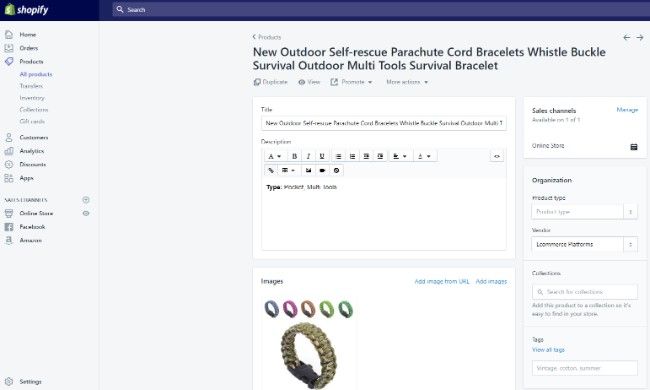 7. Automatic order completion and tracking (Track Order)
It can be said that this is one of Oberlo's most popular factors, and the sales are super convenient. Once a customer places an order in your shopify online store, you only need to find the product in the inventory, and then click the Order Product button, everything is OK, the rest will be processed automatically by Oberlo, and the supplier will package and ship it. The customer does not know all of these operations, or that you are just a dropshipper. They only know that they have paid you and waited for the goods to be received. The confidentiality is very strong.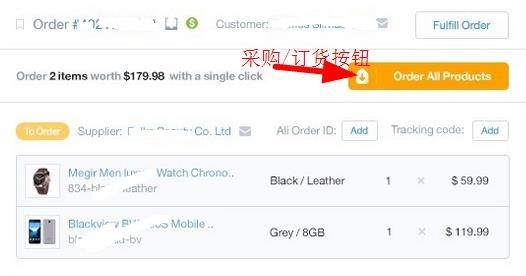 Even if the products ordered by customers come from different suppliers, you can add these products to your shopping cart and process them as you wish.
After the order is completed, all orders can be tracked according to Oberlo's track function.
8. Automatically update inventory and prices
Use Oberlo to update inventory and never sell out-of-stock items. The same is true for pricing. If the supplier's product price changes, you will receive a notification, and then adjust the price accordingly in your online store in a timely manner.
Oberlo price
Although Oberlo has two payment plans, it can also be saidOberlo is free.
Oberlo's starter plan is completely free, 500 products are suitable for most shopkeepers, and the main functions of dropshiping are already available, no need to pay for upgrades, if you need to upgrade, then basic is fine.
Starter plan: $0
Number of products: 500
Order quantity: 50/month
Daily product (price and inventory) simultaneous update
Automatic order processing
Automatically generate tracking number (synchronized): products from AliExpress suppliers
Batch order processing (one-click processing of orders within 1000 copies)
Automatic price (fixed or floating price)
Free chrome extention extension application (import products directly on AliExpress website)
sales report
Dispute management (refunds, returns, etc.)
Basic plan: US$29.9/month
In addition to the above functions, there are also:
Number of products: 10000
Order quantity: 500/month
shipment tracking
Provide automatic order completion status report
Pro plan: US$79.9/month
In addition to the above functions, there are also:
Number of products: 30000
Order quantity: unlimited
Multi-account operation
During the payment period, the payment can be cancelled at any time without affecting the order processing, but the order must be processed manually.
Oberlo Conditions of Use
Oberlo is available all over the world, but it is limited to shopify cooperation, and websites that are not made with shopify cannot be used.
You can also reverse analysis. This Oberlo is also a free app strongly recommended by shopify to its users. There is a reason. Due to the popularity of shopify, the app that can be recognized and recommended by it is naturally not to be underestimated and ignored, otherwise it will affect shopify. The reputation of Oberlo should be carefully studied on the functions and usage of Oberlo.
How Oberlo connects to the Shopify online store
Because Oberlo is an app exclusively for Shopify, the premise is that there must be a Shopify store as the basis, so there are two situations:
The first one does not have a Shopify account
Nothing to say, firstSign up for a shopify account for free, Let's talk about the next step, that is, the second case.
The second type already has a Shopify account
It's also very simple, install the Oberlo app
In another case, some people may already know about and register Oberlo, then on the left dashboard of the oberlo backend, clickconnect shopify storeButton to enter the shop settings page, click connect store and enter your shopify shop URL, as shown in the figure below:

Supplier reliability
9.5/10
Convenience of searching products and suppliers
9.5/10
Commodity quantity and diversification
9.0/10
Pros
Automatically complete orders
Integration with shopify
The interface is clear and easy to operate
Synchronous update with supplier products (daily)
Automatic delivery
Cons
Oberlo cannot be used alone, it must rely on shopify