OptinMonsterIt is the best conversion and lead generation, conversion optimization pop-up plug-in tool, through intelligent positioning (such as exit intention, site repositioning, geographic location, etc.) to reduce shopping cart abandonment and increase sales conversion rate, Quickly convert website visitors into subscribers and then become your customers. The plugin is widely used and can be applied to WordPress blogs, Drupal,weebly,Woocommerce, Joomla, Shopify, Magento, Bigcommerce, etc. and basically all website platforms.
Why do you need this Lead Generation plug-in?
Email is the most cost-effective way to contact customers. However, you first need to obtain the email addresses of potential customers before you can send them emails. Otherwise, it is spam. Using spam strategies will adversely affect your business and website. The negative effects are far greater than the positive, so you must proceed with caution.
This is why when you browse some websites (especially foreign websites), you will see that on these websites, there is a box asking you to fill in your email address, what you can get, etc. (as shown in the figure below), this is what these websites are getting Your email address (mailbox). Even giants like Facebook, Twitter, and Instagram are the same. Collect users' emails. You should probably understand it. It may be a very good and powerful online marketing tool/method.
The problem is: simply adding a registration form to the website does not work well. Most users will ignore these "basic forms" registration forms, and the effect is not very good.
For this kind of optin form to really work and produce conversion, one is to be beautiful; the other is to display personalized and relevant information based on user interests.
According to statistics, about 70-90% of visitors may never come back, which is a very big loss to website traffic and conversions. However, this lead generation plug-in tool can pull these people back and turn them into subscribers or your customers.
So let's take a look at the positive effects in this regard. The tool can be implemented without writing any code.Quickly collect customer emails, To achieve the desired purpose.
OptinMonster outstanding features
1.Quickly increase email subscribers (Email List)
Easily create eye-catching forms and display campaigns at the right time for visitors. In this way, you can ensure that the optin form is displayed when the visitor is most willing to subscribe.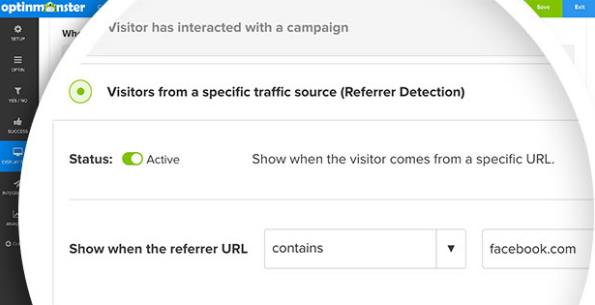 Similarly, you can run targeted campaigns based on user behavior, website pages, visitor location, and device (desktop, mobile, or tablet).
2. Increase Pageview Pageviews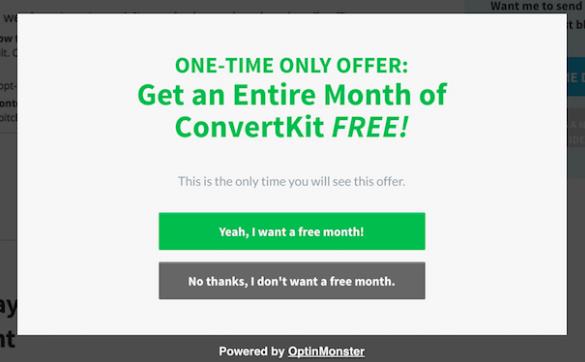 In addition to increasing the registration rate and number of emails, OptinMonster uses the combination of Yes/No detection rules to redirect website visitors to the most popular web pages, which can also greatly increase pageviews.
3. Turn first visitor into regular/regular visitor
Through this kind of email, you can establish contact with visitors and encourage them to visit your website more frequently.
When these potential customers leave the site, OptinMonster displays targeted advertising campaigns or pop-up windows for this group of people. In this way, the subscription ratio of first-time visitors can be increased by 2% to 4% and converted into regular visitors.
4. Reduce shopping cart abandonment
For businesses with online stores/shops, customers abandoning their shopping carts may be the biggest problem and challenge they face.
OptinMonsterExit intention technique(Exit-intent) Show targeted advertising behavior to these users who abandon the shopping cart, which can make them convert before they leave your website (abandon the shopping cart).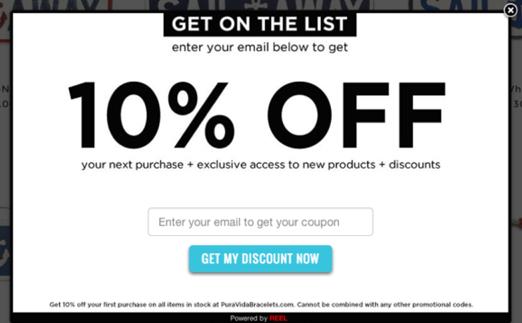 For example, the following methods can be used to use OptinMonster:
Invite to chat with customer service
Encourage their purchases with special discounts
Invite them to subscribe to the newsletter to download or learn about the latest, most favorable and best-selling products (3 steps to quickly create a newsletter)
5. Onsite Retargeting function
Retargeting is a buzzword in the e-commerce industry. Retargeting in the traditional sense is offsite, that is, targeted advertising actions taken by customers after they leave your website.
But OptinMonster uses onsite retargeting, before they leave your website, use customized popup campaigns to retarget such potential customers. As long as the customer exits your website, this kind of exit popup advertisement will appear.
Use OptinMonster to create beautiful Optin forms

The forms created by OptinMonster are very beautiful and simple, with various forms and types, which effectively shorten the user registration time:
Light box popup
The slide is an Optin form
Mobile-friendly Popups
Optin form under content
F floating optin form
Sidebar optin form
…….
All these optin forms can be infinitely customized through the intuitive drag-and-drop builder. In addition, all the options created can be customized with colors, fonts, images, and text.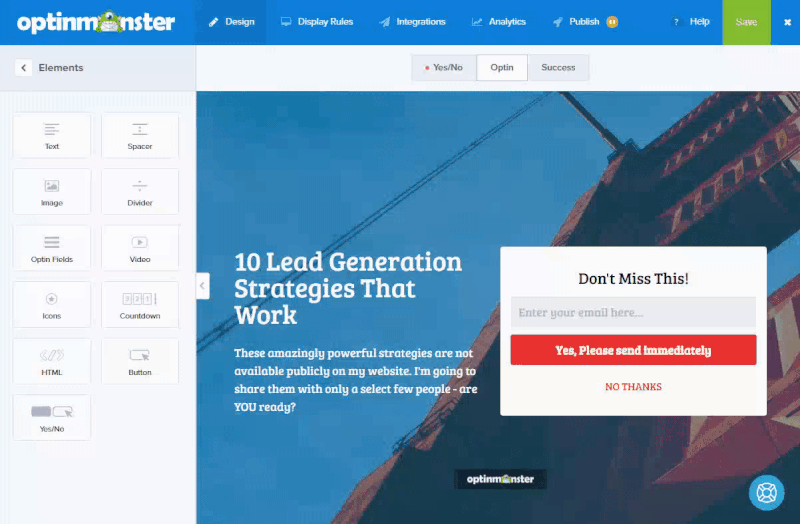 Optins forms generate actual conversions
OptinMonster has some pretty good features to help increase conversion rates and makelead sales growthIt becomes very simple.
Exit intention technique – The optin form is displayed when the user is about to leave the website, as shown in the figure below: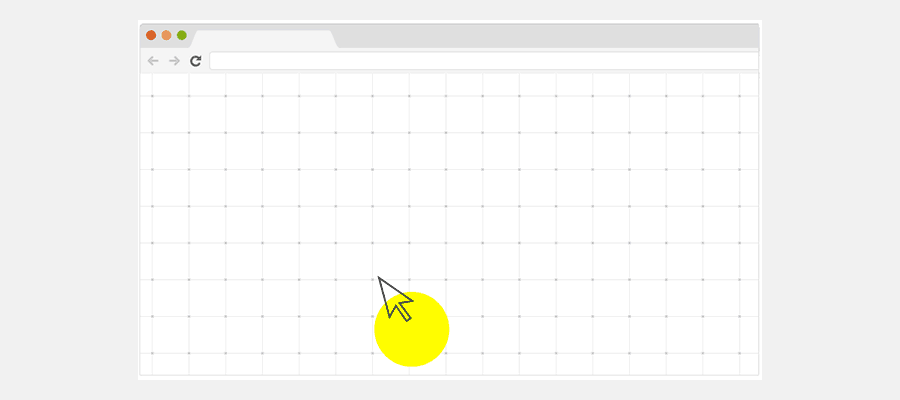 Scroll-based trigger – When the user scrolls down the page, a pop-up window or optin form is displayed.
Page-level targeting – Allows the creation of target optin forms for different pages, that is, target messages can be displayed on specific pages or categories to build a super target list.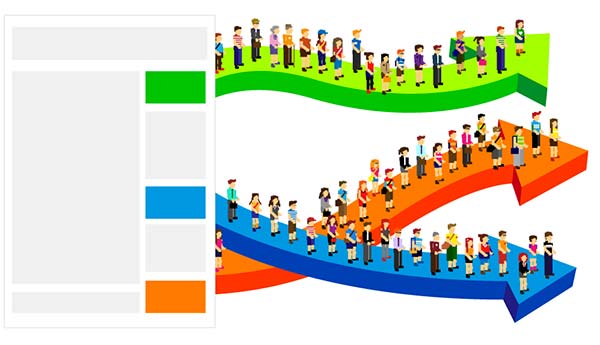 A/B testing – Run different optin forms to test which one can get the best conversion.
Time-based trigger – Display the product at the right time for the user's visit.
Built-in analysis – This function analyzes the number of clicks, the number of views and the overall conversion rate. Simply put-get important statistics to optimize your strategy.
Location targeting – Display targeted campaigns based on the visitor's geographic location.
Inactive sensor – Find inactive visitors and convert them into subscribers.
Full screen welcome interface
OptinMonster's full-screen welcome interface is the best for quickly attracting users' attention and conversion. In this regard, OptinMonster is the best.
Most potential customer generation tools on the market redirect users to different pages. Using this doorway page will face the risk of Google penalizing the website.
This kind of full-screen display of the welcome interface or interstitial ads without redirecting the user is the safest way to display the full-screen CTR language to the user.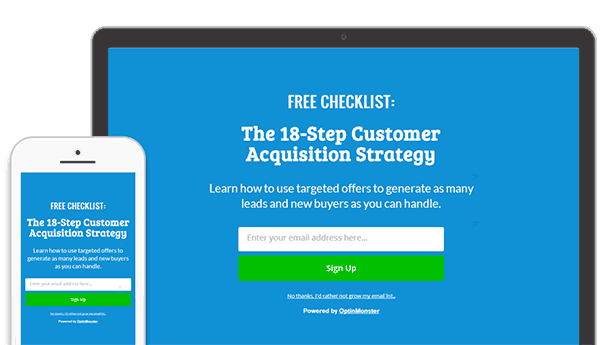 Smart MonsterLinks™
OptinMonster has another powerful feature called MonsterLinks™, which can add a two-step optin form to any link or image on the website.
When the user clicks a link or button, a subscription form will pop up. This method is more effective than traditional subscribe, as shown in the following figure: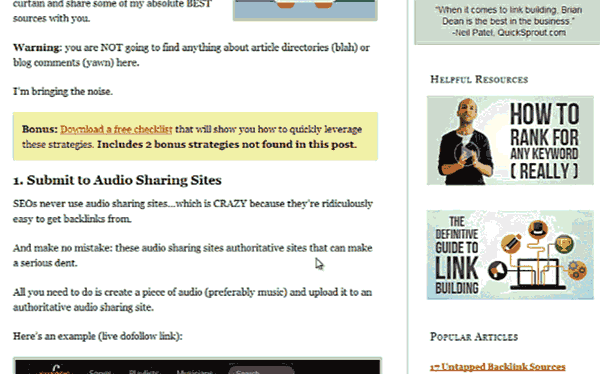 MonsterLinks
Use MonsterEffects™ to interact with users
OptinMonster has a visual effect called MonsterEffects™, which makes visual effects more attractive and interactive.
By adding custom CSS effects in the pop-up window, these effects can attract the attention of visitors and increase conversion rates. OptinMonster comes with 26 built-in CSS3 animation effects that can be applied to pop-up windows.
These effects are very beautiful and will be immediately noticed by the user. They also make the pop-up window appear vivid and improve the user experience of the website.
Compared with similar competitive products
OptinMonster is the best product for lead generation. Compared with other similar products, OptinMonster is more prominent in the following aspects:
1. Comprehensive functions
Drag and drop builder: Powerful drag-and-drop builder can easily build optin forms in minutes.
Campaign type: OptinMonster provides a variety of different campaign types to show visitors the most attractive ads, such as lightbox pop-ups, post forms, sidebars, full-screen welcome, slide-in scrolling boxes, floating bars, countdown timers, etc. .
Campaign trigger: Use smart campaign triggers to show the right campaign to the right people at the right time. Compared to any other lead generation solutions (such as exit intent, scrolling triggers, inactivity sensors, etc.), OptinMonster provides more campaign triggers.
Targeted campaign: In addition to detecting user behavior, OptinMonster can also create targeted advertising campaigns based on traffic sources, webpages, geographic locations, and visitors' devices.
Seamless integration with email marketing services: OptinMonster integrates Aweber, MailChimp,Constant Contact, Campaign Monitor and MadMimi, Infusionsoft, iContact, GetResponse, Mailpoet, OntraPort, Feedblitz, sendinblue and all custom HTML form scripts.
A/B method test : Test potential customers and choose the audience that suits you best. This A/B separation test module improves the conversion rate and does not require guessing what is effective. Test different content, headings, layouts and styles to see what converts the best content. The more tests, the higher the conversion rate.
2, Easy to use
Even for beginners, it is relatively easy to use OptinMonster to create lead generation ads, such as Instagram lead generation ads, mouse click and drag functions to create beautiful optin forms without design or coding skills. Moreover, the built-in templates are easy to use, so you don't always have to start from scratch.
3. Suitable for all kinds of websites
Whether it is a publisher, e-commerce merchant, B2B merchant or any other marketer, OptinMonster is suitable.
4. High performance
Since OptinMonster is a hosted platform, it will not consume server resources like other WordPress popup plugins, and will always ensure high performance without reducing the speed of the website.
Lead sales growth real case
Wholesale SuiteIt is to provide a series of premium extensions for WooCommerce, aiming to build a business wholesale page for the store, and get 6,500 new leads every year through OptinMonster marketing activities.
LifterLMSIs one of the most excellent wordpress LMS plugins (LMS is Learning Management SystemAbbreviation), after using OptinMonster, converting free users to paying users increased revenue by $23,700 in just five months.
Remarks: LifterLMS is alsoshareasaleOne of the excellent profitable merchants in it, (click hereView EPC data). If you want to promote this product, you canApply for shareasale affiliate.
Kennedy BlueEngaged in the wedding industry, producing high-quality brand-name dresses, providing high-quality shopping experience and affordable prices, which can be directly sent to the bride's home to try on and purchase. The website is built using Shopify. Within one month after using OptinMonster, sales surged by 50%
Kennedy Blue also uses the shareasale alliance to attract affiliates to promote its products, and its EPC datahere.
OptinMonster price
USD 9/month, Contains a lot oflead sale instructional video, The product has a 14-day unconditional money-back guarantee.
OptinMonster
$9/month after 7-day trial
overall evaluation
9.8/10
support and service
9.6/10