SFI Marketing Group's two main forms of making money in multi-level marketing alliances: commissions and points. If you successfully form your own team, the accumulation of points will have a proportionally increasing effect. Speaking of this, we must introduce two types of offline: PSA and CSA.
related articles:
什么是PSA
---
在SFI中,PSA是Personally Sponsored Affiliate的缩写。这是你的直接下线,根据你自身的级别,可以一直到12级PSA。
佣金比例:你可以从PSA(只能是第一级PSA)赚取45%的佣金PSA是通过你的链接进来的。从第二级PSA起,你就挣不到他的佣金了,但是能赚取他的点数。
举个例子:
Earnings Example: An order is placed by one of your personally referred TC members that has $23 CV and 1,725 VP. You earn a $10.35 Direct Commission (45% of $23) and 1,725 shares in the TripleClicks Executive Pool.
你的第一级的一个PSA买了一个商品,这个商品的CV价值(所谓CV就是这个商品的纯利润)23美元和V1725VP(tripclicks上的商品都有CV和VP这两个值,大小不等),那么你所能从他身上赚到的是23*45%=10.35美元和1725VP(后面我讲1VP是多少美元)。
在如,你的1、2、3、4级各有1个PSA买了上述商品,你能挣多少呢?
佣金不变(因为每个PSA都只有1个上线,他会给他的上线带来10.35美元),还是10.35美元,但是VP变了是1725*4=6900VP
好了,我说说1VP是多少钱。
1VP=0.0005美元
很失望,是吧?太少了
但是,你知道,你的下线多了是多少吗?
先看我的,我这算少的: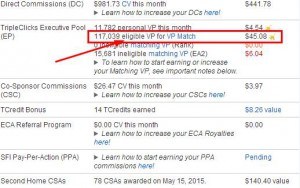 看看红线标的117039VP,美元是45.08.这是一个月vp价值,不算佣金,还算是可以。
我再给你看一张菲律宾的成员截图,这是他在加入SFI2周年后公布在SFI论坛上的: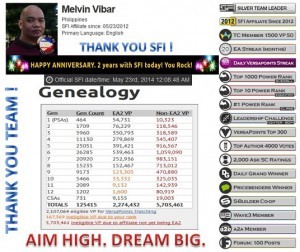 你看看他的eligible VP是多少?2107064vp*0.0005=1053美元/月
因为只有下线购买商品,才会有VP的产生,所以说他这个VP对应着一个相当高的佣金。这个人经常在SFI的论坛上发帖子,讲他的经验(在SFI大家都不避讳这个,因为这个VP就是SFI从公司的盈利中拿出来奖励、激励会员,类似公司发展的股份。)加入SFI后,你也可以私信联系他,取取经。发现他后,我经常问他,人不错,他说的方法也很有价值。
什么是CSA
---
CSA是Co-Sponsored Affiliate的缩写。CSA与PSA的区别是:
也是你的直接下线,但是只有这1级。另外,佣金的比例也小只有15%。这CSA的获得是SFI对做到一定级别的会员奖励的。还是以我的为例,看截图(还是上面那个):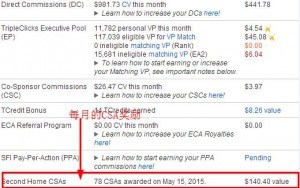 上述CSA是1个share(每月不等,大约是50-80个CSA),你也可以从tripleclicks的竞价拍卖中获得(PSA也可以这样,但是竞拍很激烈,不如CSA容易)。对CSA的拍卖参加多次,也多次竞拍成功,还是很有经验的(如果对竞拍感兴趣的可以在下面留言,或者加入后,SFI平台私信联系我),下面是成功拍卖后的截图:
竞拍成功在于策略的运用,不一定花钱越多就一定能成功。在竞拍之前,要阅读竞拍页面的tips,然后试着竞拍几次找找感觉,在正式开始。
如果喜欢钱币收藏的朋友,应该关注SFI的Pricebenders竞拍。
| | |
| --- | --- |
| SFI独一无二的银币竞拍 | 中国大熊猫金币竞拍 |