The important thing is: to make affiliates interested in your program, it is an honor to join. The more time and energy spent in this step, the greater the chance of success, and the easier it is.
The reason why you join the shareasale alliance as a merchant/seller is to attract excellent affiliates to promote products for you. To attract them to join your affiliate program, you must improve your profile, that is, do a good job of self-introduction. What does this seller do, what advantages does it have, and we will get generous rewards for successful promotion, etc. The following are the main three aspects:
Program Bio settings
Make a beautiful self-introduction here. It can be said that this is the first opportunity to cooperate with your affiliates to attract their attention. This program can be edited in text and html, and can add beautiful pictures and format pages. and many more.
Summarize company history, commissions offered, bonus/reward affiliate programs, average sales (EPC), cookie duration, and any other important information seen by the shareasale affiliate. The more detailed and specific, the better, and you can update your bio at any time in the future.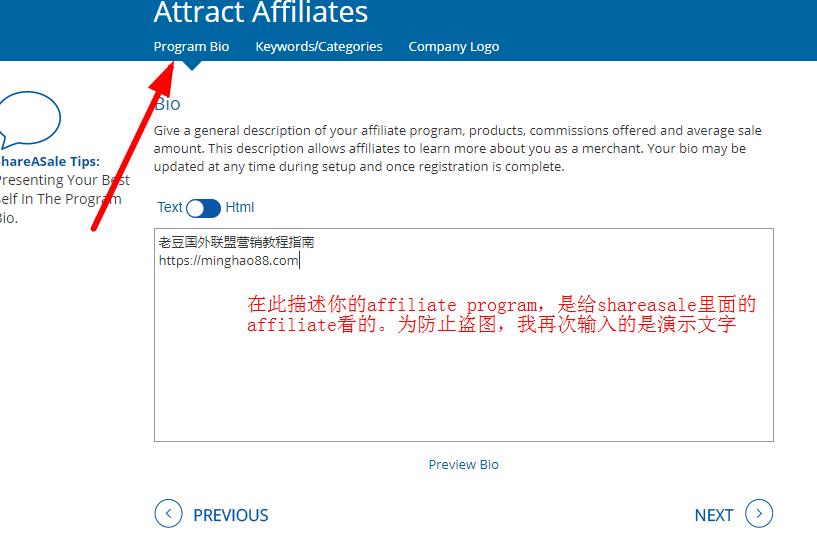 Tip: Click the "Preview bio" button to preview the program bio page to see if it is displayed correctly.
Keywords/Categories settings
Maximization is the key! Use 255 characters as much as possible. Here, make sure to include the brand name and other useful terms. Generally speaking, these terms are somewhat similar to SEO terms. Add as many keywords as possible, and you can change them at any time in the future. There are many sahreasale businesses, and I also use keywords to search, so the keywords are as related to your products and brands as possible, so that affiliates can find them quickly.
Choose a category here, you can also add other categories (additional category fee is 350 US dollars), in this category selection as much research as possible.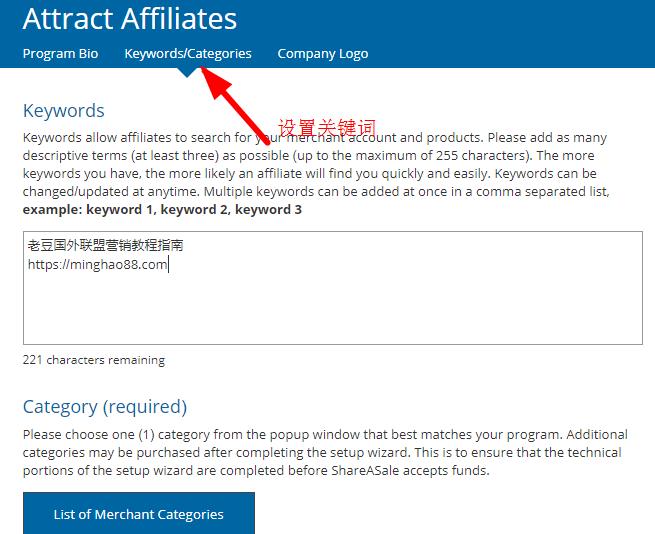 Company Logo settings
The logo should not exceed 500 x 500 pixels. This is the main image displayed on your business details and co-branded page.
The co-brande page is prepared by shareasale for its merchants, which is convenient for quickly recruiting affiliates. Your merchant link on shareasale is in the following format, and the ID number at the end is assigned to you by shareasale:
http://www.shareasale.com/shareasale.cfm?merchantid=12345
In addition to the company logo, there are also a variety of creative sizes that can maximize your exposure in shareasale. It is also very simple to use. Drag the logo to the leftmost box and click on the telescope preview on the rightmost side, as shown in the figure below: