SiteGround hostingAs one of the mainstream virtual hosts in foreign countries, many people are a little confused when choosing the SiteGround shared hosting payment plan. They don't know which one to choose for their website construction needs. I hope this analysis can help you choose the most suitable payment plan for your website construction needs.
SiteGround providesStartUP, GrowBig, and GoGeek These three shared hosting plans
SiteGround shared hosting package introduction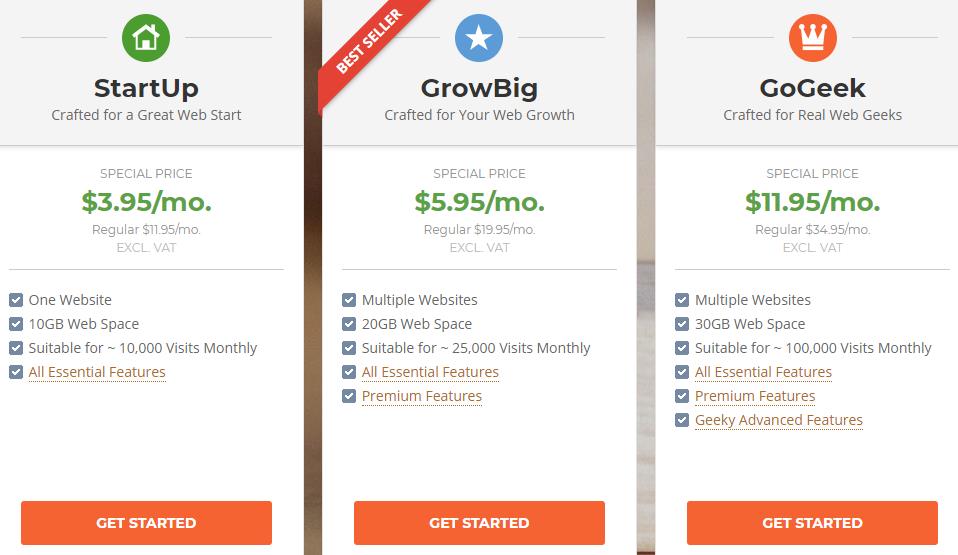 SiteGround providesStartUP, GrowBig, and GoGeek The details of these three shared hosting packages are as follows:
StartUp
This is the cheapest plan for SiteGround hosting. You can build a website for only $3.95 a month. This is most suitable for novices who are just starting to build a website.
1 website
10GB website space
10,000 visits per month
Shopping cart free
Website update automatically
Free website backup (30 days)
Website acceleration-SuperCacher (Level 1)
 GrowBig
This plan is suitable for multi-site construction. This is the most popular SiteGround hosting plan. The price is only 2 US dollars higher than StartUp (ie 5.95 US dollars / month). In addition to all the functions of StartUp, there are:
Unlimited number of sites
20GB website space
Monthly traffic 25,000
SuperCacher (all three levels), greatly improving the speed of wordpress and Joomla websites
With all the functions of wordpress and Joomla website
Free website recovery
Website transfer is free (this requires a service fee of more than $100 for hosting on Bluehost)
Service level: priority
GoGeek
The monthly plan of $11.95/month is suitable for e-commerce or large-scale website construction. It adopts PCI-compatible server and can be provided for senior website designersStaging functionAnd the integration of GIT functions, in addition to all the functions of the above two plans, there are:
Unlimited number of sites
30GB website space
100,000 visits per month
Can be manually at any time
Buying advice
Not only for novices, but for everyone, choose the cheapest StartUp program for the first time to build a website to experience the excellent performance of the Siteground host, which is worthwhile, and can be upgraded at any time as needed in the future.
Comparison details of three SiteGround hosting packages
Website building

(Choose package)

Startup

($3.95/month)

GrowBig

($5.95/month)

GoGeek

($11.95/month)

View package-start website construction
All packages have
Monthly visits
10,000
25,000
100,000
Web space
10GB
20GB
30GB
Number of websites
1 piece
Multiple sites
Multiple sites
data transmission
Unlimited
Unlimited
Unlimited
Free drag and drop tool
Have
Have
Have
Free CMS (Content Management System, that is, site building) installation
Have
Have
Have
Free email account
Have
Have
Have
Unlimited MySQL database
Have
Have
Have
Unlimited number of subdomains and hosted domains
Have
Have
Have
cPanel & Softaculous
Have
Have
Have
30-day money-back guarantee
Have
Have
Have
Website acceleration
Servers located on three continents (ie four data centers)
Have
Have
Have
SSD storage
Have
Have
Have
Server customization
Have
Have
Have
Free CDN for every account
Have
Have
Have
HTTP/2 server
Have
Have
Have
SuperCacher
Grade 1
All three levels
All three levels
Prevent website downtime, SPAM, attacks and data loss
Power redundancy
Have
Have
Have
Hardware redundancy
Have
Have
Have
Based on LXC stability
Have
Have
Have
Unique account isolation (no interference between users)
Have
Have
Have
The fastest server monitoring
Have
Have
Have
Anti-hacking system
Have
Have
Have
Proactive updates and patches
Have
Have
Have
Spam expert
Have
Have
Have
Free daily backup
30?Copies
30?Copies
30?Copies
Free backup and recovery
without
Have
Have
Instant manual backup
without
without
Have
Technical support and after-sales service
24/7 Amazingly Fast Support
Have
Have
Have
Phone, Chat & Tickets
Have
Have
Have
Free website transfer
without
Have
Have
Problem solving first
without
Have
Have
E-commerce solution (shopping cart related)
Shopping cart free installation
Have
Have
Have
Free SSL security certificate
Have
Have
Have
PCI compatible server
without
without
Have
Provide the following features for website professionals
Multiple PHP Versions (7.2, 7.1, 7.0 and 5.6)
Have
Have
Have
Perl and Python Supported
Have
Have
Have
Free SSH and SFTP Access
Have
Have
Have
MySQL & PostgreSQL Databases
Have
Have
Have
FTP Accounts
Have
Have
Have
Many more technologies supported
Have
Have
Have
Pre-Installed Git
without
without
Have
Staging
without
without
Have
View package-start website construction