After Fiverr is registered, the default is the buyer account first, but the seller is also this account, but a simple application process is required, that is, the Fiverr buyer and seller accounts are unified.
Read this tutorial to learn how to register a buyer account, then create and activate a seller account.
Register a Fiverr account
Enter the homepage, enter your email registration in the registration box that pops up, and use your Google, Facebook, and Apple accounts to register with one click, which is very convenient.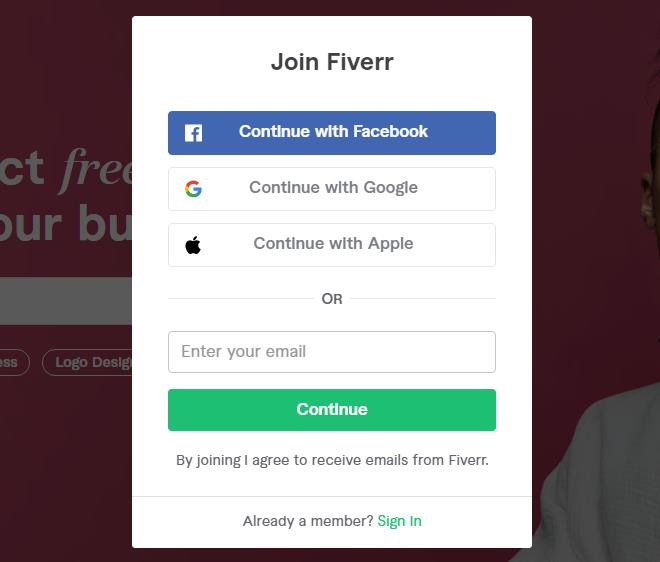 You can also click the join button in the upper left corner of the homepage to register.
2. Enter the email address,Continue
If you enter the mailbox to register, continue will appear, click this button to enter the next step.
3. Choose Username
Remark:
– Once the account is successfully created, the user name cannot be changed.
– Your username will be displayed in the Fiverr URL. It is recommended to choose your username carefully.
4. Enter the password and click join
5. After successful registration, you will receive an email notification
Note: The activation link in the email is valid for 30 days.
6. Click MailActivate Your AccountLink to activate Fiverr account
Become a Fiverr seller
After following the steps above to create a Fiverr account, log in to your Fiverr account.
1. Click on your profile picture and selectBecome a Seller

After clicking, enter the Fiverr seller application interface
2. Click Become a Seller
After clicking this button, enter the seller start procedure. On the next 3 pages, Fiverr introduces the seller's profile, which is clear at a glance, and there is a more than 1 minute video introduction on the first page (it is recommended to watch it), click in the order of the pages continue 3 times.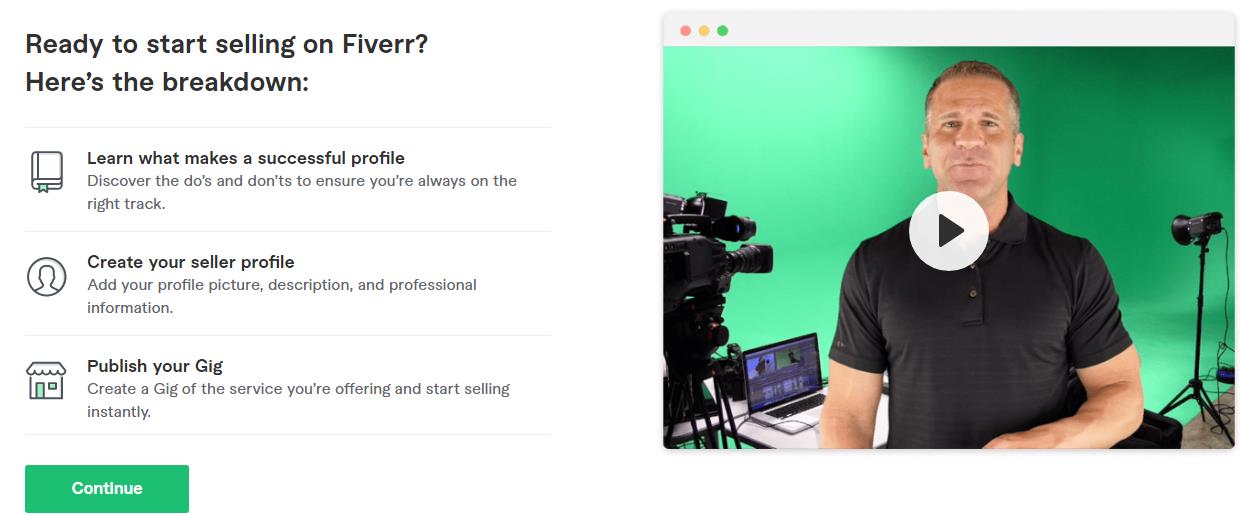 Click on your profile picture and select My Settings. On this page, click Dashboard, and then click Start Selling. These buttons are beside the profile picture or in the upper right corner of the page.
3. Fiverr Seller Personal Settings
After reading the seller's introduction on the 3 pages, enter the Mackey profile settings.

The fields with an asterisk are required fields (the more accurate and detailed information you add, the better your seller profile will be, and the more profitable it will be for sales).
4. Verify account and create Gig
Finally, needPhone verification account, And then Fiverr asks to create the first Gig so that you can sell the services you are good at as a seller on Fiverr.