As a merchant and seller, if you want to provide Coupons & Deals to ShareASale members for promotion, you need to knowCoupon and transaction database. This database is the easiest way for members to find your deal and the best way for members to receive links.
Why? First of all, ShareASale will publish an RSS feed, and members who subscribe to the RSS feed will receive this notification (generally shareasale members will subscribe), and even those who have not been approved can also see the deal information, and members can also read from themselves Search and export the transaction database within the account, so thisCoupon & Deals DatabaseIt is a very clever recruitment tool.
The picture below is a screenshot of the Coupon & Deals Database searched from the shareasale member account. These can be seen regardless of whether the merchant approves or not. If you are interested, you can click on the join program on the right to apply. If you have been approved, you can see your own affiliate link, and the button view on the right to view the details of this offer. You can feel it (click on the picture to see the details):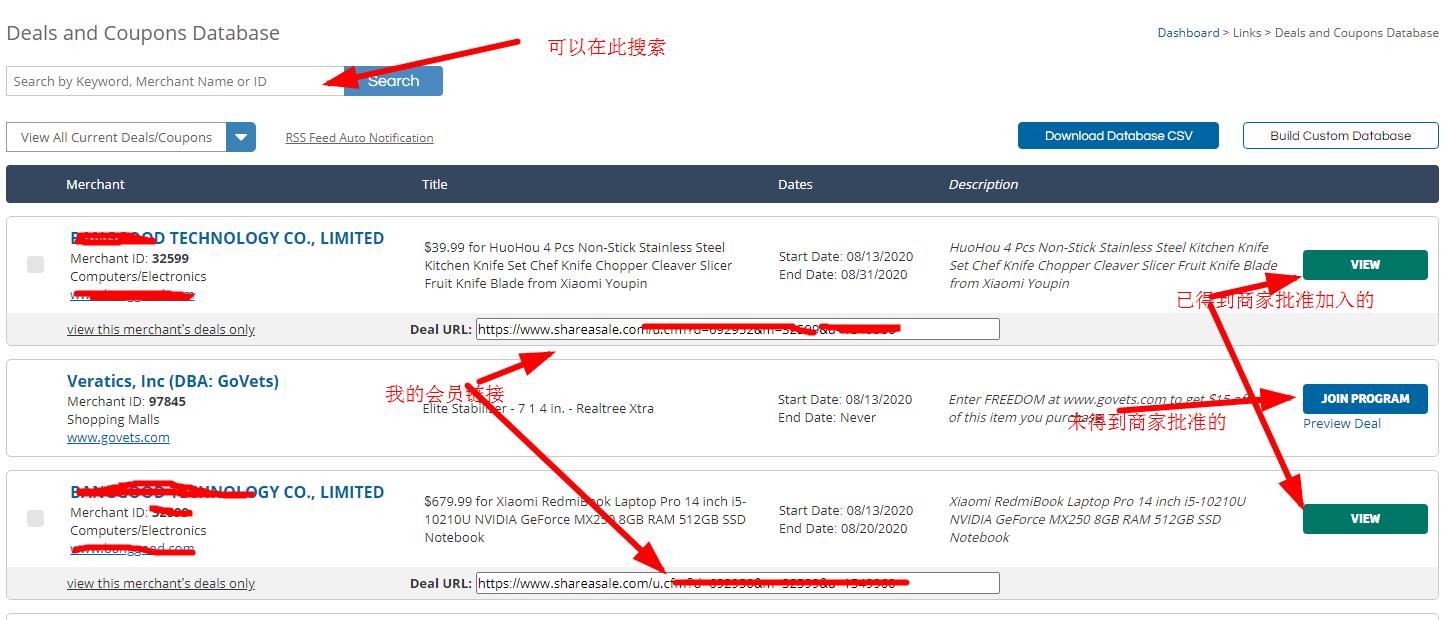 How to use Coupon & Deals Database:
Look for the * : An asterisk indicates a required field.
Dateless Deals (no date offers): Coupons that have not expired can be entered as "NEVER" on the date. Use this option if you want to provide members with links to permanent customs clearance or sales pages.
No Coupon Code (No Coupon Code): "N/A". If you don't have a coupon code, leave this field blank. Many members will export the database and display all the codes listed. These codes will display the results, such as "None" or "N/A".
Image: If a specific product is marked, the product image must be included. Images can also be used to associate specific creative uploads with sales.
Stagger Deals (staggered transactions): Upload deals at the beginning of the month. But stagger the deals in the middle of each month to make the most of RSS feeds. When uploading deals during the busiest time, the deals may be lost.

Coupon Organization: Coupons should use category and keyword fields for easy search by members. Categories are a way to organize transactions, and keywords can search for specific terms.

Define Usage: At the bottom of the deal upload page, there is an option to create a special commission for the deal, and to make the transaction public to all approved members or private to selected members. When a deal is selected as a member's exclusive deal, this function can be used to force the member to be exclusive. This means that if the specific transaction ID is used for transactions, members who are set up as exclusive transactions will receive commissions.

List Restrictions