The annual Western 2018 Black Friday shopping spree is coming soon. This article introducesWealthy Affiliate(Newcomers don't understand Wealthy Affiliate's words,Please click on this page to view the Chinese description) The status and details of the main preferential activities.
North America Time
From November 23 to 26, 2018, you will be reminded of members since the countdown appears in your WA account. After the 26th day, there may be an extension of three days thereafter, and you will need to wait for WA notifications.
Activity price
This kind of Black Friday is not a double eleven in China. It is a real discount based on the original price after raising the price. This is not only the case for WA, but also large foreign platforms and websites. If you are other foreign websites Members of, also pay attention to their own discounts. Don't miss this opportunity. Once the time is over, the original price will be restored immediately.
Normal price category on weekdays:
Special price of $19/month for new members within the 7th day of the first month
Monthly membership price of $49
Annual membership price of US$359
2018 Black Friday prices:
There is only one annual price of US$299, which is equivalent to US$0,82/day, and you can develop your online business, covering everything (all courses and tools), and no hidden fees.
Advantages: After the expiration of the second year, it is still US$299/year, regardless of whether the expiration date of the coming year falls on Black Friday
I purchased the Black Friday price of 299 in 2016. The renewal fee in September this year is 299, and the renewal fee in September next year is still US$299, which is equivalent to half of the normal price:

This period is the peak period of WA's income. Last year's income far exceeded WA's own estimates. It also shows WA's development speed and the recognition of WA's affiliates.
Activities applicable to
Applicable members: All members (Starter, Premium Monthly, Premium Yearly, Cancelled Monthly, Cancelled Yearly), free and various paid members, including members who have been cancelled before this time can also participate in this event.
In addition, there are the following
Reward-Bonus
Become a Black Friday member and enjoy the following live video courses (including operation). If you miss the time, you can review the video:
Bonus #1: The 7 Factor "Secret Sauce" (Live Class)
Bonus #2: The Secret Sauce, The White Paper.
Bonus #3: Creating a Lucrative Niche Website in 2019 (5 Weeks of Live Training)
Bonus #4: Early Beta Access to Yearly Members
Black Friday exclusive pages and links
EnterBlack Friday exclusive linkTo enjoy the discount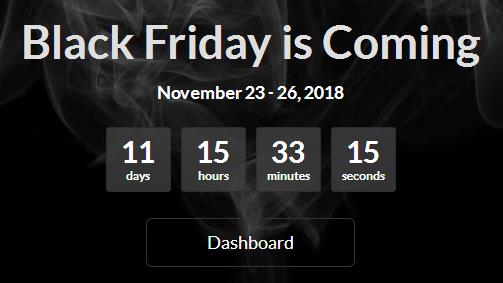 2018 WA update memorabilia
Wealthy Affiliate is a platform that keeps pace with the times, where you can learn about the latest developments in this area, and WA has been doing a lot of work in order to retain members for a long time:
SiteComments 2.0-Instant comment function (which will effectively improve the website's ranking and activity in Google search), and a new way to make money using WA (October 2018)
Wealthy Affiliate Mobile Version-The Mobile Friendly Version of WA Released (September) September 2018
Free SiteSSL, Free SSL for ALL for all member websites, August 2018 (previously free member websites did not have this function)
Membership website speeds up again – August 2018
New WA experience-Complete UX Redesign (May) Complete UX (User Experience) redesign-May 2018
JaaxyIntegration-The Jaaxy keyword tool was integrated in WA for the first time for all members to use-February 2018
Next Level Video Technology Upgrade Course Video Technology-January 2018
The above are some of the more important updates. In the past year, they have also added:
100 new training resources
10,000 new blog posts
52 hours of live classes
Millions of interactions and relationships (WA membership growth rate is amazing)
Coming soon for premium members
The Evolution of Keyword, Website & Niche Research-Keywords and Niche Research in the New Situation
The Ultimate Lead Generation Platform
State of the Art Image Compression, 2.0
Instant Access to 10,000's of Affiliate Programs-Access to tens of thousands of foreign affiliate programs
HUGE Advancements in Websites and Hosting Space
More Personalized Interaction & Help
Training, Creating Experts Out of Everyone
Full-Time Revenue Opportunities Directly Within WA
A Streamlined Process for Getting Instant Expert Help
SiteContent 2.0, the SEO Edition
A Beautiful Series of Mobile Only Updates
Integration Between ALL Aspects of Your Business
Ambassadorship Opportunities and Advancements
Exciting New Writing & Affiliate Challenges
Brand New Affiliate Tools, Resources & Training
And More!