Novices feel unpredictable about WordPress website building, and even have a sense of fear, thinking that this is the job of professionals. In fact, with the development of network technology, it is very easy to use wordpress to build a beautiful website, and it can be said to be at your fingertips.
At present, some related tutorials (Chinese and English) about WordPress website construction are relatively professional, and some places may not understand newbie. I also came step by step from a WordPress rookie, combining my own experience and feelings. Wrote this page, I hope it will be helpful to novices. Another purpose of writing this page is to let everyone know what it is and why it is, and to understand the principle and process of building a WordPress website.
The latest WordPress website tutorial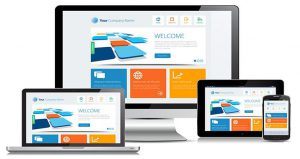 In fact, you can quickly build a very beautiful responsive wordpress website by using the latest Internet technology without knowing anything about wordpress. (I will talk about it below)
Many years ago, drivers were required to learn about car structure and maintenance for driving licenses. Otherwise you can't drive the car. But now, you just need to open it. Others have related professionals and organizations to serve your car. You don't need to understand the principle to drive, and the principle of WordPress website construction is the same.
WordPress site tutorial directory
WordPress site construction steps
Domain name application
Host space application
Install wordpress theme
WordPress website submitted to google
WordPress site construction specific flow chart explanation demonstration
Log in to the WP management background
Create WP page/page
Home page settings
WordPress site steps
First, the website must have a domain name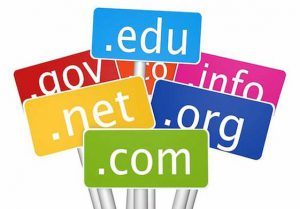 The domain name is the website address, which is like the address of your home or company. Tell the other party this address and they will be able to find your website.
Generally speaking, subdomains basically do not cost money. Top-level domains can also cost money or no money (free), depending on your own situation.
If you just plan to build a website, you have a niche concept, that is, you have a general market profit direction, but you don't know how to do it. If you want to register the domain name first and protect it, then what you mean is that you don't want to be on the host. Spending money is just registering a domain name.
Then, in this case, it is recommended to register with namecheap, which is the most cost-effective, there are often promotions, and the credit and user reviews are extremely high. After you have done everything and want to build a website, you can build a website on namecheap (the host evaluation is also good), or you can do a DNS resolution for the domain name and point the domain name to the host you purchased.
If you want to build a website while registering a domain name, you can purchase hosting services directly. Now mainstream hosts generally provide free domain name services for the first year. The domain name and host are all together, which is very convenient.
Regarding URLs, in general, the URLs of the top-level domains are purchased with money (the annual fee is about US$10), and the subdomains do not need to spend money.
At the beginning, it is recommended that novices do not spend money first, use firstFree site creation for subdomainsAfter that, familiarize yourself with the entire WordPress website operation process (themes, plugins, adding content-articles, etc.), and then buy the main domain name, and then transfer the website with one click (the process is very simple-foolish operation), so that unnecessary costs can be avoided.
The cost of domain name registration is not much different at home and abroad. For example, if you see this website now, I used to pay in the country (local city information port), 100 yuan a year, now the domain name and host are all transferred to the United StatesWA Company, The annual domain name fee is $12.99.
In addition, registering domain names at godady.com, namecheap.com, 1and1.com is also a good choice, and the price is not high.
For top-level domain registration, the com suffix is preferred. If this has already been registered, org is also very good (currently considered to be the same level as com).
Second, there must be hosting space to store your website
The host mentioned here refers to the virtual host for the construction of the wordpress website. The website you see (such as this one of mine) contains many pictures, videos, articles, links, etc., which are all in the form of files. These files need a "warehouse" or "room" to store, this The place is the virtual host.
Regarding the choice of virtual hosting providers, as well as the well-known registrars mentioned above, it is recommended to choose US hosting space, the price is transparent, the function is comprehensive, the speed is fast, and the operation is simple and easy. It is best to put the domain name and the host together so that it is easy to manage. Otherwise, the domain name is registered here and the virtual host is there (of course, this is no problem). The domain name and the host expiration time are inconsistent, and the renewal management will be troublesome.


As mentioned above, the virtual host required for subdomain construction is generally free. But the virtual host of the main domain name is charged. Generally, the monthly cost ranges from a few dollars to tens of dollars, and the functions and the number of sites provided are also different. If you want to build a multi-domain site, it is recommended to useWA Cloud Host, There are as many as 50 wordpress sites, and all sitesSSL certificationFree, tryDon't use free hosting to build a website(Main domain name to build a website), there are many problems.
Third, choose website theme and install wordpress
Choose a website that suits youniche marketingThe subject of the direction (Note:What is a wordpress theme), and then click to install wordpress.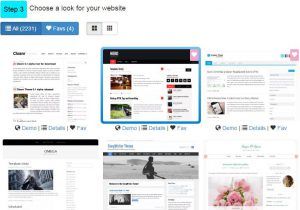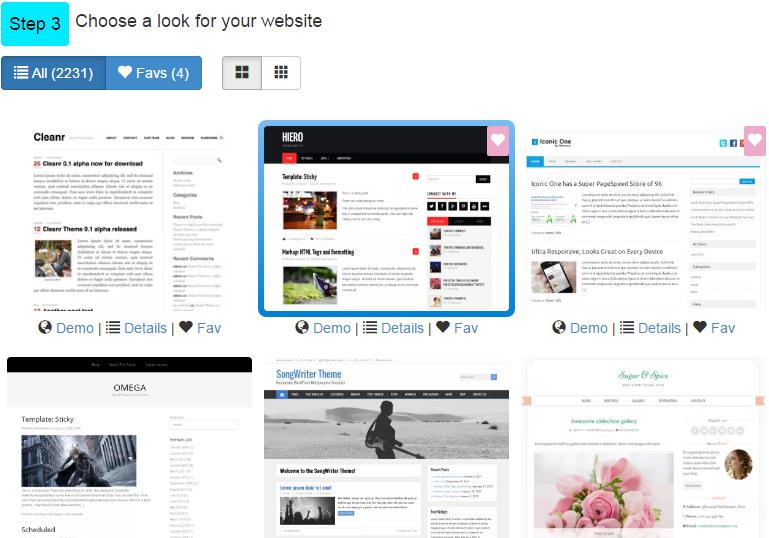 In this step, the previous operation was as follows:
Download WordPress first, then upload it to the virtual host and unzip and install it (the theme is the same) is it troublesome, and I don't know if the host you are looking for supports the operation of WordPress websites. For novices who do not have certain code knowledge, problems may arise in installation and operation.
The above process seems a bit complicated. In fact, now the domain name application, website building tools, virtual hosting, wordpress installation, wordpress theme selection, etc. have all been integrated. For example, the more well-knownwealthy affiliateWordPress quick site building toolsiterubixIt provides all the above-mentioned services: wordpress website construction, promotion, marketing, virtual cloud hosting services, etc.
related resources:WordPress website logo maker
Fourth wordpress website submission
After the website is built, go to google to create a google webmaster account, submit your website to google, and then create your site map and submit it so that google can include your website. Upon hearing it suddenly, some novices may feel that their heads are big. Actually, it's very simple, refer to this how toCreate a site mapand How to submit a sitemap to googleThe operation will be completed soon.
In the same way, register a bing webmaster account, and then submit your wordpress site and map. I won't say more here.
WordPress site construction specific flow chart explanation demonstration
According to the above process, you have only installed the wordpress site with only themes, but the current site is still blank, so how to create the wordpress content specifically? What about wordpress pages (pages) and articles (posts)?
Next, I will register and build a new subdomain website under this domain name (minghao88.com) to demonstrate this process (healthlife.minghao88.com), and name this site "Laodou Health Hut".
Please refer to the specific process of (sub)domain name establishmentQuickly build a website in 1 minute with wordpress
The first step is to log in to the WordPress website management background
After the website is built, enter the website management center (I use the siterubix website building tool here, the interface may be different for different places to build a website), click login now

After that, enter the backend of the wordpress website (dashboard/dashboard)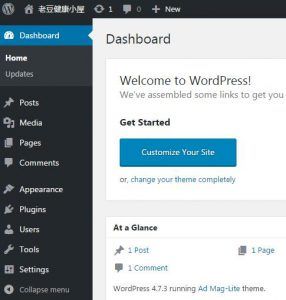 The second step is to create the wordpress page frame
All websites are composed of a set of core pages to form the framework of your website. In wordpress, these are "pages". (Notice:Don't confuse page with post. )
After the wordpress site is built, the next job is to create several pages/pages to form the basic framework of the WP website.
1 Create a page
Find the page button (left side) on the wordpress management interface (dashboard), place the mouse on it, and select and click "add new"

In most cases, after installing wordpress, there will be a "home" page. If not, create several main pages including home (according to personal circumstances):
Home/Home
product
Blog/blog/article
About Me/About
Contact
Privacy Policy/Privacy Policy (some English-language foreigners are very concerned about this page, they will look at your website's policy to ensure that no personal information or any claim page is collected)
Don't pay too much attention to what you write in the initial stage of website construction, first build a few pages to build the basic structure of the website.
After creating these pages, your WordPress management back-end interface looks like this: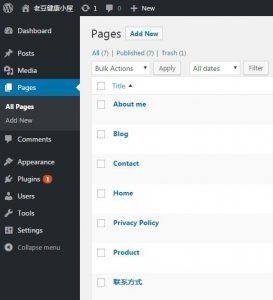 2 page publishing
Don't forget to click the "publish" button on the left after creating the page/page. Visitors can only see these pages on your website after the web pages are published.
The third step is to customize the homepage of wordpress
1. Set static homepage/Static Homepage
In the settings, you can configure your "homepage", "post/post" and "page/page"
There are several ways to configure a wordpress website. It is recommended to use a "static/static" page as the homepage of the website. In this way, you can control the pages you want visitors to see on your website from the background.
Visiting yourdomain.com URL will display your website homepage, let me explain how to do it:
Find settings in the left column of the wordpress backend, then click the "reading" button and select "static page".
In the drop-down menu, select "home" as the website homepage. This means that visitors who click on your website URL will see this page, as shown in the following figure: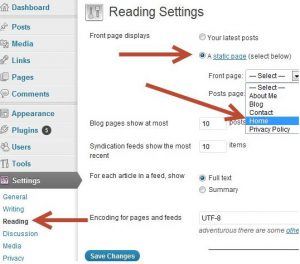 2. Set up a static article/post page
If you choose blog as the post page as the static page, then the visitor will click on the button of blog to arrive at a static page. On this page, you will see all your post articles, as shown in the following figure: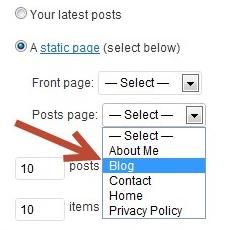 Then click the save button below to save the above settings.
The fourth step is to check the wordpress website
Following the above simple steps, wordpress is complete, and the future work is to add web content. You can add new web pages and article posts according to the niche direction of your website and your target customers according to the repeated steps.
If you follow the steps above, your wordpress website will look like this (page navigation bar):View WordPress website demo results

If you are not satisfied with the theme of the website, you can change it at any time.
You can follow these methods to quickly build a new wordpress website and run it immediately.