WPFormsIt is the most suitable WordPress contact form/form plugin for beginners and experienced users. With the drag-and-drop online form builder, you can easily create beautiful contact forms, email subscription forms, payment forms, and other types of online forms with just a few clicks, and it has everything you need to create powerful and flexible forms on your website All functions.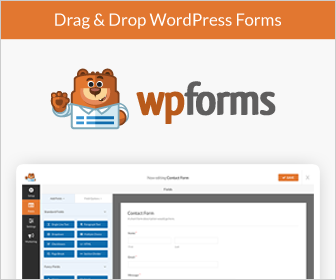 On the Internet (searched via Google), I did not see any negative comments on WPForms from users of this WordPress plugin, almost all of which are four or five starsPositive reviews, Let's take a look at its main functions and see why it stands out among similar products.
WPForms is very easy to use, especially for novice users who don't understand technology. After a period of research, I found that it is so simple and powerful. I don't know any code and other technologies, but because it is drag-and-drop ( Each function corresponds to a small demo video, which is easy to understand), no code is required at all, and I am planning to apply it to this blog in the near future (because I have tried a few before, I am not very satisfied), through the following small video Let's have a general understanding of WPForms:
WPForms features and components
WPForms excels in the field of WordPress form plugins because of its powerful functions and simple operation. The following features are introduced:
100% mobile/mobile friendly responsiveness
All forms created are 100% mobile/mobile responsive, so the form looks as good on all devices as it does on a computer.
All forms created with WPForms are fully responsive and suitable for mobile devices.
Whether viewing the website from a desktop, laptop, tablet, or smartphone, the form always looks great.
WPForms form templates are built for cross-browser compatibility, which means that the website can run on all types of browsers without problems.
The form creation process is completely drag-and-drop, and the intelligent system is sufficient to adapt to the selected settings and dynamically generate a form layout suitable for mobile devices.
6 simple tips to increase conversion rate of mobile forms
Online form builder/designer
This powerful drag-and-drop online form designer can easily create WordPress contact forms and other online forms in minutes, without writing any code.
It comes with a drag-and-drop builder. The form creation process is very intuitive. You can easily build, add, and delete various WordPress forms in a few minutes with just a click. You can also drag and drop to rearrange them as needed.
Form/form template
Form templates – Use pre-built form templates to save time and never start from scratch.
Building a form in WordPress is generally very time consuming, because every other WordPress contact form plugin requires the form to be built from scratch.
There is no need to create a form from scratch to use WPForms, unless you really want to do it yourself.
WPForms provides users with an option to start with pre-built form templates to save time. Use this drag-and-drop form designer to add, delete, and rearrange fields as needed.
Whether it's creating a simple contact form, requesting a quotation form, donation form, payment order form or subscription form, there are suitable form templates.
Spam protection
WPForms uses smart CAPTCHA and Honeypot methods to prevent spam form submissions.
Online forms are a major target for spammers. In this regard, WPForms provides several effective methods to prevent spam.
WPForms uses smart Honeypot technology to combat spam. The reason this technology is so popular is that it can prevent spam without disturbing the user experience.
In addition to using Honeypot technology, WPForms also added CAPTCHA to WordPress forms, using Google's reCAPTCHA project to reduce spam submissions on the form.
reCAPTCHA is a free service that uses advanced risk analysis and automation software to block spammers. It is very easy to bypass users, but it is difficult to bypass spam bots.
In WPForms, reCAPTCHA can be easily enabled. Just enter the API key and check the box, and the CAPTCHA will be added to the WordPress form.
Instant WordPress form/form notification
WordPress form notifications can quickly respond to received queries and potential inquiries. This rapid response behavior can effectively grow your business.
The first impression given to customers is very important, WPForms instant notification function can quickly respond to customers. When the user submits the form, WPForms will immediately notify you via email. Of course, you can also choose to only notify yourself or other designated persons to ensure faster response time.
All you have to do is enter each email separated by a comma, and WPForms will do the rest.
Whether using the form for regular contact inquiries, donations, or settlement, the form notification can reply to the audience customers in a timely manner.
If some forms do not want email notifications, then WPForms can turn off email notifications on individual forms.
Smart form/form confirmation
The WPForms form confirms that it can display a success message, redirect the user to an existing page, or relocate the user to a completely different URL page as needed.
We know that each form performs different functions and purposes, which is why each user filling out the form should have a unique experience.
The WPForms form confirmation function can control what happens after the user successfully submits the form.
You can choose to simply display the thank you message on the same page, and let the user know what will happen next; you can also redirect the user to a specific page on the WordPress website, why you are thankful here, and you can also provide it on this page Your exclusive discount products or information.
In addition to locating/redirecting to your own wordpress website page, WPForms can even locate a third-party website page, that is, any other page, which can be your further upsell here.
File upload for WordPress forms/forms
Want to add file uploads to your WordPress contact form? The WPForms file upload function allows the collection of file and media (images, pictures, etc.) information through online forms.
As the owner of a wordpress website, sometimes you may collect other information as part of the form, such as images, videos, Word documents, PDFs, etc.
The WPForms file upload function can collect files through WordPress forms.
Just click and drag the inline form builder to easily add file uploads in your WordPress form.
Security is an important priority of WPForms, so file types are limited to secure files and have a maximum upload size to save storage space.
The uploaded files can be easily viewed from the WordPress dashboard.
Multi-page form/table
Split the long format into multiple pages to improve the user experience.
No one likes to fill out long forms, so in order to increase user engagement, the WordPress form builder can create multi-page forms. With a simple click, the long format can be divided into multiple pagination parts.
Use the drag-and-drop interface to easily move fields between sections, rearrange pages, and more.
When the user submits the form, all the data is stored and displayed on one page, so you can easily view all the form data with one click.
There are many uses for multi-page forms, such as:
WordPress multi-page registration form – Registration is very convenient, attract users to register, increase lead
Multi-page job application form – Recruitment is an important process. Multi-page forms can easily collect all the data needed.
Multi-page patient data form – Applicable to websites of hospitals, health care, massage departments, etc., multi-page forms can easily collect and store all the required data.
Multi-step payment order form – Payment slips sometimes require more information. Break it down in multiple steps to create a smooth flow.
Mailchimp components
The WPForms Mailchimp component can create a Mailchimp newsletter registration form in WordPress to expand and increase the email list.
If you use Mailchimp for email marketing and want to create smarter Mailchimp registration forms in WordPress, then WPForms can easily create unlimited registration forms for Mailchimp, and then connect them to your Mailchimp account.
The WPForms Mailchimp plugin allows to enable/disable a single choice for each form. This means that you can choose to use double opt-in or single opt-in, which is usually not possible in Mailchimp.
AWeber components
The WPForms AWeber component can create an AWeber registration form in WordPress to expand and increase the email list.
AWeber is also top-notchemail marketing tools, The function is similar to the above. WPForms also allows users to easily create unlimited registration forms for AWeber and connect to AWeber accounts.
Constant Contact integration
If you useConstant ContactFor email marketing business, you can easily build Constant Contact email lists with the help of the built-in integration features of WPForms.
WPForms' Constant Contact integration can add new email subscribers to the list from any form created: contact form, request for quote form, WordPress user registration form, etc.
Most importantly, every WPForms user can use the built-in integration of WPForms with Constant Contact without the need for additional components.
For details, please see:How to connect Connect Constant to WPForms
PayPal standard components
The PayPal component of WPForms can connect the WordPress website with PayPal to easily collect payments, donate and process online orders.
If you want to collect money and sell products and services on your WordPress website, the PayPal standard plugin of WPForms can easily integrate your WordPress website with PayPal:
Create an order for the product
Receive advance payment for services
Sales of digital product downloads, etc.
Add a simple donation form to the website
…And more
After the user fills out the form, it can be automatically transferred to complete the PayPal transaction.
Although it is difficult to collect money, WPForms can make the setup process very simple. Choose from pre-built donation and settlement order form templates, or use a blank form from scratch.
The drag-and-drop builder allows you to easily customize the form, adding and deleting fields with simple clicks.
The advanced payment area allows you to add multiple items before the user's order and display the total amount, so that the user can know exactly the amount to be paid.
WPForms applicable user level
As mentioned earlier, WPForms is designed to be simple and powerful, which is designed for beginners. Don't get me wrong, don't think it's suitable for beginners, just think it's inferior. It is also designed for expert users. If you want to customize the form/form you need by modifying the code, you can refer to the one provided by WPFormsSample formAs described in this article.
WPForms price
Another biggest advantage of WPForms: suitable for websites of all sizes and budgets.
Whether you are running a personal blog, a wordpress shop, a small business website, a non-profit organization, an e-commerce company, or any other website, the WPForms plugin is very useful.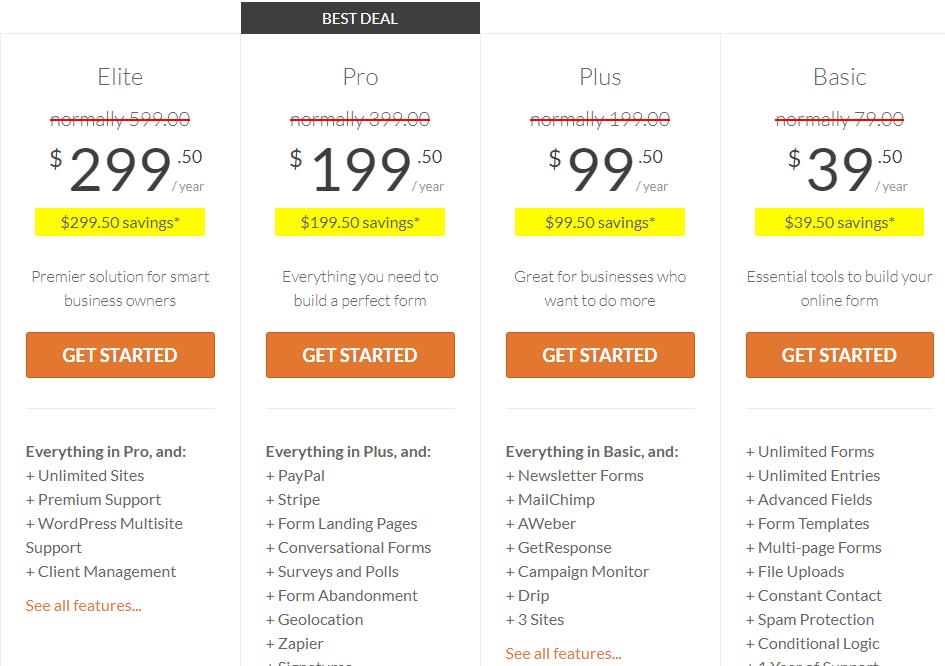 Regarding the price of WPForms, taking BASIC as an example, it is normally US$79/year, but WPForms will not often offer discounts, and sometimes you enter thispricing page(I don't know if what you see is the same as what I saw-the screenshot above), it will show the above discounted 50% promotional price, or when you enter your email to log in, even if you haven't made a purchase, after a while, this website It is also possible to send you a 50% discount email with a promotion code.
In addition, there is a free way:
In your wordpress backend, on the add new page of plugin, enter WPForms to install the plugin, you can provide four types of form/form template production:
Blackform
Simple Contact Form
Newsletter Signup Form
Suggestion Form
The following is a screenshot of my test with the WPForms plugin installed: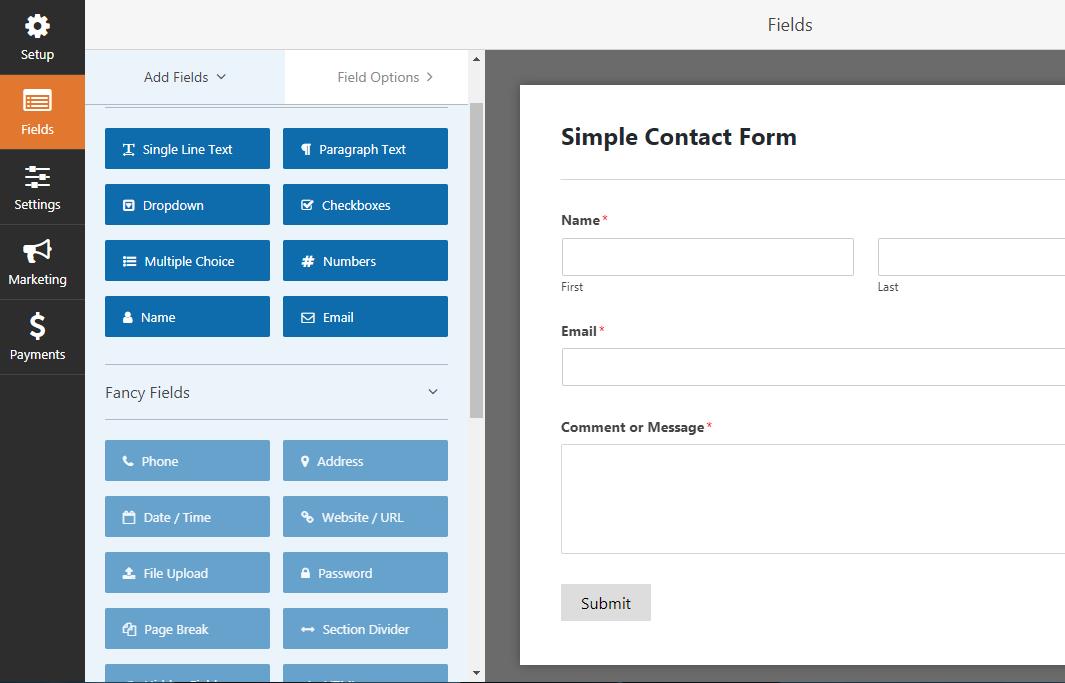 WordPress form/form plugin-WPForms review
The goal of WPForms is to build a simple and powerful WordPress plugin. Therefore, it is not only suitable for beginners, but also suitable for advanced developers to customize their own characteristic forms.
The final statement is rigorous and objective:
At least WPForms is a WordPress contact form/form pluginoneIn terms of its price/performance ratio, it is not an exaggeration to give it a 5/5 star rating.
WPForms
Free or USD 39.5/year
Operation convenience (intuitive & simple)
10.0/10
Comprehensive function
9.8/10
Template comprehensiveness
9.5/10
Pros
lead generation
Improve website user subscription rate
Increase/improve conversion rate
Improve website user & audience engagement
Quickly build email list
Cons
Free version experience is limited