The proportion of Internet users shopping online in the European Union has increased to 60%. Denmark has the highest proportion of online shoppers, while Estonia has the fastest growth in the past decade.
A survey in 2018 showed that in the 12 months prior to the survey, 56% of people aged 16 to 74 in the European Union shopped online. One year later, this share increased to 60%. Compared with the situation in 2009 ten years ago, the proportion of online shoppers has almost doubled.
Men shop more than women
EurostatThe data shows this, and the data also shows that, perhaps contrary to popular belief, more men shop online than women. According to the survey results, 61% of men and 59% of women in the European Union shop online. But the fact is that in the past ten years, the proportion of female online shoppers (from 29% in 2009 to 59% last year) has increased more than men (from 35% to 61%).
The proportion of online shoppers among women has increased even more.
Scandinavia has a high percentage of online shoppers
When looking at the share of online shoppers in each country/region, it shows that there are especially high-share shoppers in Northern Europe. The country with the highest share isDenmark(84%) andSweden(82%), followed byNetherlands(81%),Germany(79%) and Finland (73%).
Estonia has the highest increase
In Estonia, the proportion of online shoppers has increased the most. In 2009, only 17% of residents purchased products and services through the Internet, and this proportion increased to 68% ten years later.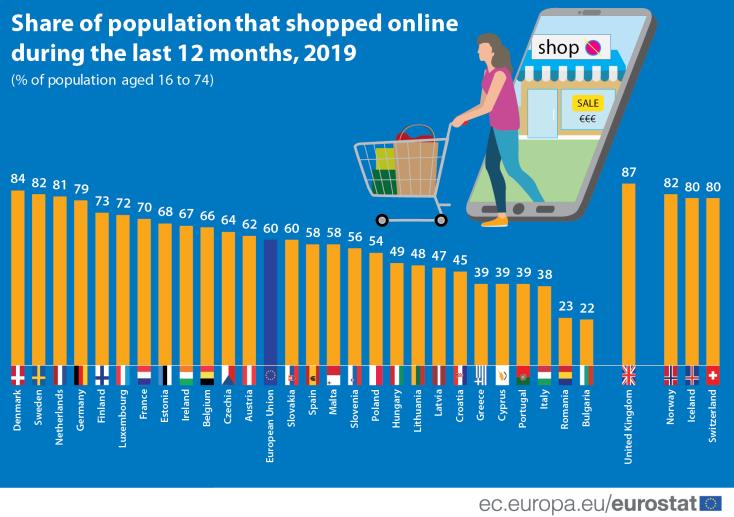 Article Source:European e-commerce news site