Shopify is currently a highly evaluated e-commerce platform tool. Global and Chinese e-commerce companies can design, develop, and build online stores for cross-border sales of any product according to their own needs and purposes. This article can help you choose which shopify solution to market. .
Product items:Shopify
Founder/Owners: Tobias Lutke, Daniel Weinand and Scott Lake
Training:Good
tool:good
Is it recommended:recommend
score:90 marks
I What is Shopify
About ten years ago, a group of North American ski enthusiasts suddenly wondered whether they could sell some ski equipment to earn some money by skiing. They quickly realized the huge impact of online sales, but tried to avoid it. Too complicated, mainly to provide users with a customized shopping experience, so they set up their own e-shopping platform.
This platform eventually evolved into the well-known shopify (seeShopify history), there are now more than 400,000 online shops with sales of 29 billion US dollars. It can be said that shopify is currently the most influential e-commerce website platform, and the platform and the tools it provides allow merchants to design, develop marketing according to their needs, and sell any type of goods on a global scale.
If you really want to make money by selling products online, but have any experience in website code or development, then the shopify platform is a very good choice. This comprehensive website shop builder has hundreds of theme templates embedded in it. Network marketing needs of all walks of life.
Registration is very simple, and Shopify provides a 14-day free experience, merchants can test whether this platform is suitable for them during this time. All Shopify templates can be customized according to your own needs, such as pictures, logos, text, videos, and so on. Once the theme is determined, customers can immediately use the built-in shopping cart platform to sell online.
Shopify integrates more than 70 payment methods in more than 50 languages. In addition to shopify's own POS system, Chinese merchants allow payment methods such as Alipay and paypal, which is very convenient. Intuitive shops, content management tools, and a variety of characteristic online marketing suites (for example, you can restore the cancelled shopping cart and SEO optimization), it is not difficult to understand, shopify's leading position in this field.
Reference article:How to close and delete shopify account
Ⅱ Main Features of Shopify
The following list can give you a general understanding of shopify in a very short time.
Ⅲ Shopify store sales method
Shopify can provide a variety of sales channels/methods to help customers increase sales.
1. Use Shopify POS to sell face-to-face (physical store)
Shipify is not only a very complete online shop system, but also uses Shopify's POS system to realize face-to-face product sales in retail stores, and accepts consumers from all over the world to use various credit cards for shopping cart checkout.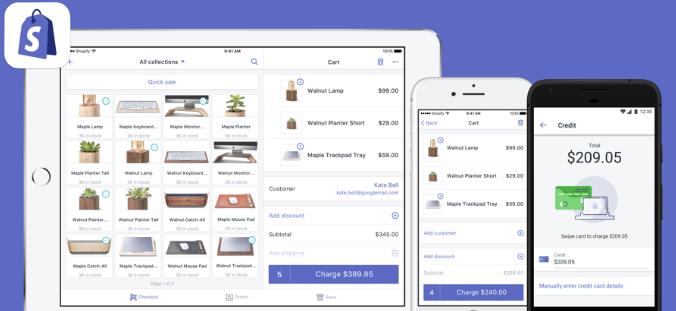 2. Shopify online shop sales
This is the simplest online "dumb" sales method. Log in to the shopify management backstage and use its shop building drag-and-drop tool to create a beautiful online shop in a short while.
In terms of adding products, shopify has done a good job, and the whole process is very simple. Find products/all products on the left and click to enter the add product page. In addition, you can also use shopify's import tool to add products in batches on this page.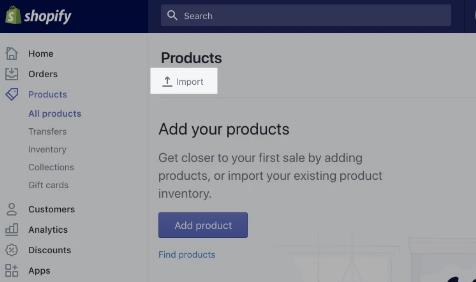 In the next step, add information related to the product, product title, description, and price; then complete shipping, SEO, and other tasks.
In other words, there is a very simple way to directly buy other people's ready-made more mature online stores, so that you do not have to wait and cultivate the growth process of the online store. These online stores have revenue and traffic analysis; conversely, if you want to sell Your own online store can also be cashed here. (check the details)
If you have difficulty setting up a store, the shopify professional team will provide help and even complete the work on your behalf.
3. Shopify shopping button
You can add the shopify shopping button (Buy Button) Add it to any of your existing websites and turn it into an online shop, no need to create a new station/shop.

(4) Marketing using mainstream social tools
In today's Internet age, the huge influence of social tools is used to promote products, shops,websiteHas become a very important means.
(1) Facebook shop
Many people around the world spend a lot of time chatting and entertaining on Facebook, but most people don't realize that they can actually turn their FB account into a very attractive shop to promote products to their followers. For China's cross-border e-commerce companies aiming at international shopping malls, this is an area and missed opportunities that must not be ignored.

(2) Use Pinterest to sell
There are millions of users in Printerest, and it is also a potentially huge customer base. All products from your shopify store Pin will generate a clickable icon of'buyable Pins', which is very convenient for purchase and checkout.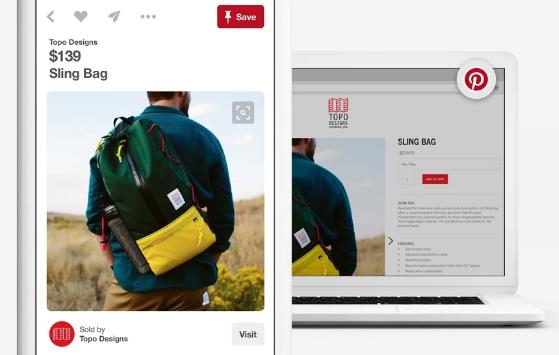 (3) Use Twitter to sell
After connecting shopify store products to twitter, a purchase link will also be automatically generated, and customers can directly purchase from their twitter account, which is very convenient.
(4) Amazon sales channels
You can list the products of your shopify store in a few minutesAmazonUse its huge customer base and traffic to increase store sales.

(5) Dropshipping sales
Many individuals and companies are currently eagerly looking for a very effective online sales profit model, but this part of the group either does not have their own (main) product, or the product is single, or there is no purchase channel, or the capital is tight, and they cannot stock up. , But coveted the international Internet market, then shopify provides such groupsdrop shipping mode.
No need to invest in purchases, no need to set up a store, get the goods at the wholesale price, just put the products on the shelves in their own stores to earn the sales difference.
For Chinese e-commerce, you can import Alibaba AliExpress products into your store, and customize the products, title, mega, price, etc. in your store. After the customer places an order, AliExpress merchants Ship directly to your customers (directly to the customer's address without forwarding). Like Taobao, you can track goods through logistics, order statistics and other functions, and its starter program is free.
IV Shopify theme –Ecommerce themes
Shopify provides more than 30 free and more than 100 paid themes with prices ranging from $100 to $180 according to your industry for users to decorate their stores. The professional, pleasing and clean layout can increase the trust and interest of customers. It can be said that design directly affects the conversion rate.
Shopify free themes with the highest conversion rate
The premium paid theme has a sharp look, the price is a bit high, but this is a one-time permanent paid price.
When setting up an online store for the first time, the theme installed by shopify is Debut by default. If you are not satisfied, you can change it yourself. In the right toolbar of the management background page, findonline store. Here, you can rename the current theme, edit HTML and CSS, language files, download and copy the theme. You can also upload or choose to change from the theme store. All themes must be uploaded in .zip file format.
Moreover, you can upload store logos in various themes, adjust fonts, colors, etc., and you can also add banners and slides to the homepage.
Now the proportion of people using mobile phones for shopping is increasing. If your potential customers cannot access your store on their mobile phones, the loss will be too great. The shopify online store is fully adapted to users using mobile phones to visit and purchase. All themes are responsive, and the page automatically adapts to the size of the mobile phone screen, so you don't need to adjust it manually.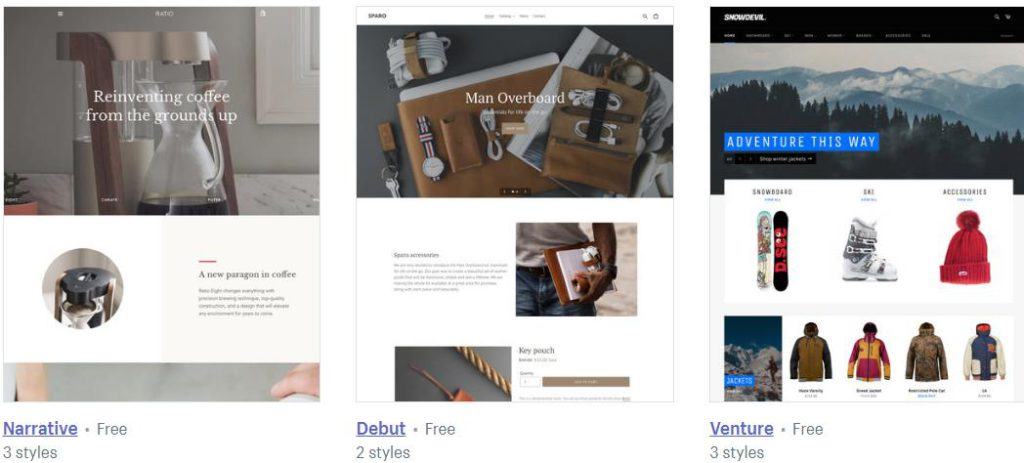 These themes have the following characteristics:
Integrated paypal payment
Blog function
Export and import of customer data
Both HTML and CSS can be edited
You can add the'buy now' button to your existing website to sell products, no need to build a new station
POS system
Discount coupon
Content Management (CMS) function
SEO optimization function
Ⅴ Shopify App extended functions
Shopify APPIt is used to improve the functions of the online store and automatically generate some business tasks, such as storage management, customer service, accounting, order fulfillment, and so on.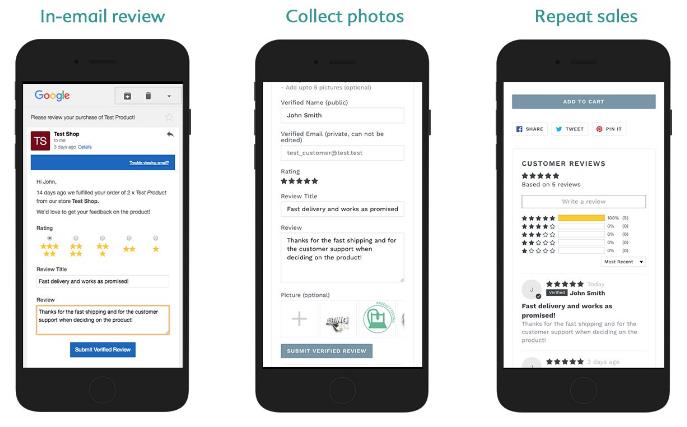 As mentioned above, even though shopify contains these basic functions in many aspects, APP can make your online store business run better and more personalized.
For example, you can add recurring payment to the store, pre-sale consultation, add product evaluation and customer review widgets. Customers can see other customers' evaluations before buying, which can help increase the conversion rate of products. These apps are available at any time. Install at any time.
APP installation is very simple. In the APP store, find the APP you need and click "get" to install it automatically. If necessary, you can change the relevant settings later.
Ⅵ Shopify free tools
The tools needed for e-commerce to promote and sell a series of tasks are free on shopify. From the most basic logo design, English business slogans and even some promotion tools to maintain customer loyalty, such as gift cards, shop slogan maker, English business name that is good for SEO, coupons and other online shopify tools.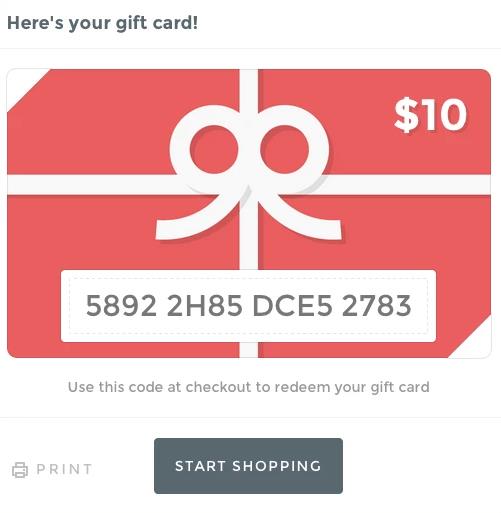 in addition. Shopify considers its merchants more thoughtfully, and there is also a shopping cart recovery tool that allows those customers who are in the wandering stage and think about it to change their minds and restore orders that are likely to be lost.
Ⅶ How to help cross-border e-commerce around the world
(1) SEO optimization
Sopify provides a complete set of comprehensive marketing solutions to make it easy and convenient for your business to find your target customer group. The platform provides SEO optimization solutions, for example, how to refine headlines, titles, and meta tags. These optimization kits can help your website shop improve its ranking results on search engines. Customers can also post in your shop a product review that is very SEO friendly to help increase the trust of the online shop.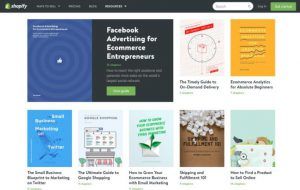 (2) Shipping and taxes setting
In the setting, enter the shipping address, and then add the area where the goods can reach. You can add free shipping or flat-rate shipping based on price or weight, which is extremely convenient for international sales and transportation.
(3) Store picture
The importance of store pictures is self-evident. Professional pictures, like themes, can enhance the image of the store.shopify galleryThe pictures inside can be downloaded for free, and you can choose what you need according to the industry classification, which not only greatly saves costs and time, but also increases the number of views and sales.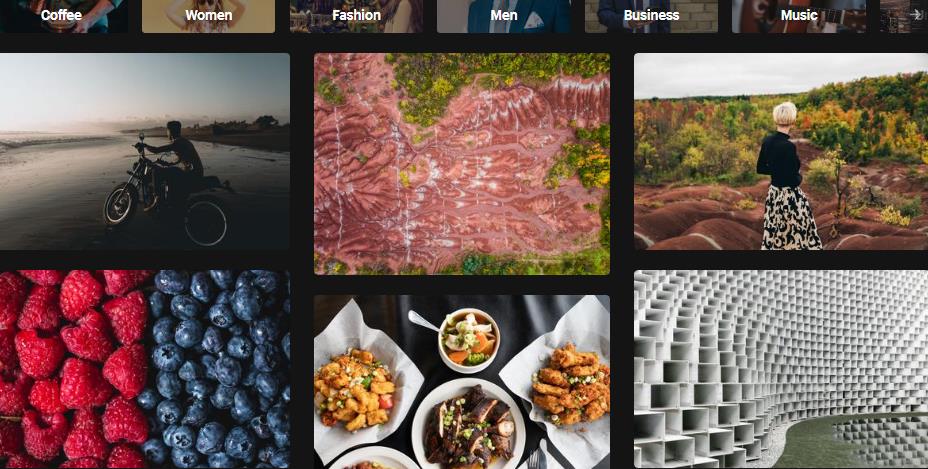 For example, this is related toLipstickThe pictures of, the pictures are not only exquisite, but also there are some tips below, Why sell lip balm online and How to make lip balm in bulk, you can select part of the text and put it on the relevant product page, on the one hand, attract customers and enrich the content; on the other hand, On the one hand, it is very good for SEO optimization. Because there is better actual content.
(3) Convenience of product search
We all have this experience: If you go to another store and look for a product with great effort, you will lose interest in a while, let alone buy it.
Shopify's keyword tag function can make it easy for customers to find what they need, and it's easy to find products in the online store.
(4) Timely notification of new orders
It is impossible for us to go to our online store anytime to see if someone has placed an order. If there are other things, we may not be able to take care of it when we get busy.
Shopify can use email, SMS, RSS, etc. to notify you to process shop orders in a timely manner.
(5)Provide detailed reports
On the one hand, to the shopkeeper, check the detailed sales status. On the other hand, it is for customers to understand the order processing and delivery situation. If the customer cancels the order, the payment will be automatically refunded, which is very convenient from the customer's point of view.
(6) Customer loyalty
Shopify merchants can use email marketing methods, gift cards, and coupons to attract and maintain customer loyalty. For customers, there are no geographical restrictions, and Google webmaster tools and google shoping can be integrated into your store. Maximum benefit.
(7) Sales channels
As mentioned above, in addition to its own online store, these multinational sales channels of shopify, such as amazon, facebook, twitter, can sell your products all over the world.
Ⅷ What can be sold on the Shopify platform
As long as it is not pornographic, contraband and other illegal content or products, they can be sold on shopify, including coffee, artwork, clothes, food, household, books, and even tattoos.
Now in shopifyMore than 400,000 merchants, The things sold in their stores are all-encompassing, whether they are physical, virtual products, services, and so on.
Ⅸ About Shopify training
Shopify also provides a large number of various forms of training content to its merchants. Even if you are a mature online salesperson, I suggest you take the time to learn about it. There are roughly the following aspects:

If you want to systematically and deeply learn online marketing, it is recommended to understand the most authoritative InternetWA training(SeeChinese description).
Ⅹ shopify price
Shopify provides solutions ranging from 29-299 US dollars per month, as follows: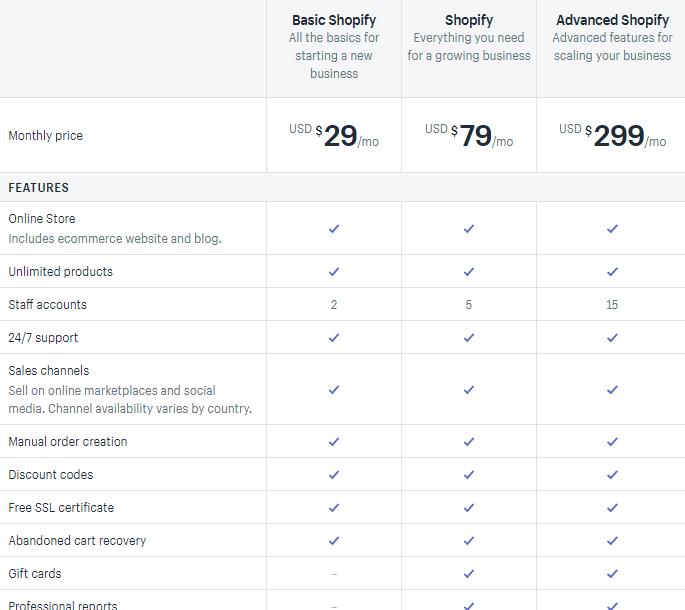 The cost of Shopify depends on the type of business plan you choose. For new business users who are not familiar with inernet marketing, basic is $29 a month to provide all the functions of the online store. This basic plan covers two staff accounts, unlimited storage and merchandise shelves, 24 hours online service, freeSSL certification, And analyze data, etc.
It has two more favorable payment methods:
Pay one year fee discount 10%
Pay two-year fee discount 20%
You can also pay several times a month, and then choose to pay annually after the decision is made, so as to avoid unnecessary waste of investment.
XI shopify transaction fee
If you use shopify's POS system, you don't have to pay transaction fees, but you have to pay credit card fees, which is inevitable. If you use a third-party payment method, you have to pay transaction fees. According to the payment plan you choose, if the payment ratio for each credit card transaction is between 1.6% and 2.2%, the ratio is determined according to different shopify payment plans (see Shopify price above)
However, Shopify's POS only supports users in the United States, Canada, Australia and the United Kingdom. If you are a Chinese user, then choose an external payment method such as paypal.
XII Shopify disadvantages
The many advantages of blabla half-day shopify above, are there any disadvantages to this platform?
Everything has two sides. To fully understand a product or project, it is also necessary to know its shortcomings. However, these shortcomings are not enough to shake the advantages of shopify. However, you can adjust your own reasonably according to the following situations compared with other platforms. Marketing plan and strategy.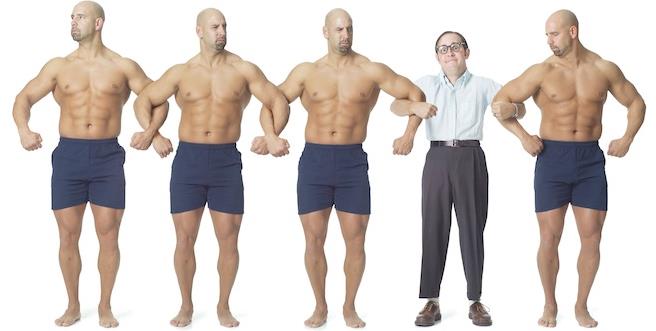 The other shortcomings are not too critical.
For example, regarding product images, it is recommended that you edit or cut them together before uploading them, and then upload them in batches. Otherwise, it may be a little messy if you don't do this work in advance because of display problems.
XIII Shopify Customer Support
Basically, any questions can be answered on the shopify help page.
You can ask for answers in the shopify forum; you can also help others by answering questions here.
Shopify's 24/7 customer service is good. There are three ways: Email, live chat and phone.
XIV conclusion
If your store customers are domestic, it is not recommended to use shopify, the advantages are not big.
For personal small online shops, shopify is also not recommended, it feels not worth it. It is recommended to use something likesiterubixOne of such free and fast site building tools is to use writingProduct reviewPromote affiliate products or your own products (also known as "software") in a way; in addition, you can install the wordpress free e-commerce plug-in, and put your own products into sales, with good results.
For domestic large, medium and small foreign trade or cross-border e-commerce, it is indeed very wise to choose shopify, because the buyers and sellers targeted by the platform are all international markets, very mature, and seamlessly connected with Facebook's major social media and Amazon. , Has great advantages for entering overseas, and several price plans are really not a big cost for Chinese cross-border e-commerce who intend to expand overseas markets.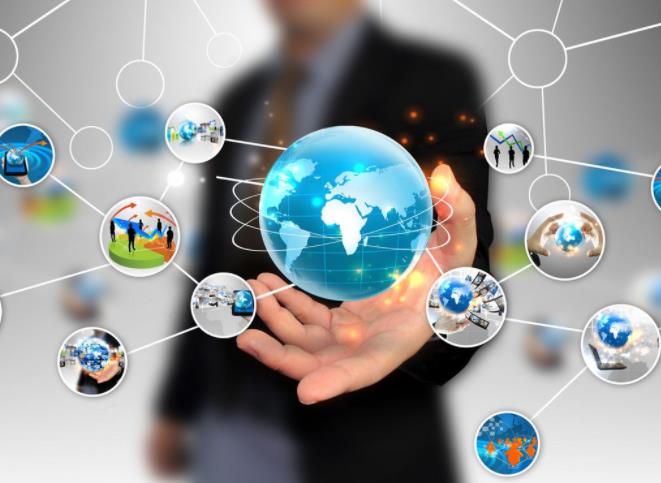 Some domestic e-commerce companies don't know much about online marketing. They just know that they build a website and store traffic and wait to count the money. A large amount of money is invested in some so-called "website traffic", and the monthly traffic is huge, Alex The ranking is also good (but the search ranking is not necessarily good), but there is no sales. As an e-commerce company, especially a cross-border e-commerce company, you have to understand that the people sitting behind the computer are your potential customers, not search engines. The search results of these people are the real traffic.
If you don't understand this stuff for online investors, it's useless to invest more (refer to the investment results of the instant search).